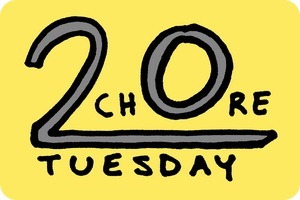 I'm linking up with Emily, from Joyful Abode, for her 20 Chore Tuesday blog link. If you'd like more info or to join, go here:
I find it very helpful to make this list, and share it. Makes me feel like I actually may get stuff done, making my list public
But, my Small Boy isn't well. The back to school/activities have brought an onslaught of germs our way. We've had a cold already, between the kids and I, and he is now feverish, clingy, off his food and not himself. I'm hoping it will pass quickly, I'm not sure how much I'll actually get done today, if he's unhappy and needs a lot of tlc.
Here goes
1) Make some cloth wipe solution. All of our pump bottles are empty, need to refill them – done
2) Fold, stuff and put clean diapers away – done
3) Fold laundry and put it away –  done
4) Strip and make kids beds and our bed – done
5) Vacuum our bedroom and dust
6) Tidy and rotate some of Small Boy's books and toys.
7) Sort some of the kids clothes that don't fit into bags for charity/friends – half done
8) Prep supper for kids and LSH and I -done
9) Clean bathroom – semi done
10) Call dentist – done
11) Order diaper liners and some nets for the wet bucket – done
12) Call a friend I've been meaning to call for ages, but keep forgetting to (feel awful, she's so gracious about my lack of sleep/Mummy tired brain right now) – done, left a voicemail
13) Vacuum and clean kitchen floor
14) Call DCP to change our hours -done
15) Fill in forms for Small Boy's swimming lessons – done
16) Order myself a new swimming costume (I hate shopping, specially with kids in tow and my costume is 12 years old, and really is in need of replacing) – can't find one I like, sigh!
17) List some items on Ebay – done
18) Call vet to arrange cat's annual check-ups
19) Pay the car tax online
20) Try and update Big Girl's birth story on the blog – just need to add photos – done
21) Contact Amazon, to see if they can fix my Kindle screen, it's got dropped somehow, and now won't work – done
All of this will depend on Small Boy and how well he's feeling. I'm anticipating a day of snuggling, and not actually getting much done, but a lot of it can be done online/by phone and I can sit and use my tablet/BlackBerry whilst snuggling him if needs be.
Wish me luck!