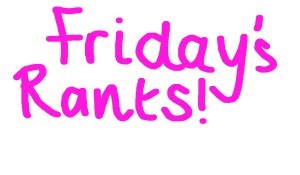 Welcome to my Friday's Rants from the Soap Box in my Living Room. A small space in the week where I can have a chunter about things that have made me twitch with annoyance or made me question if the world has gone mad or not….
I also  linked up with MummyBarrow for her Ranty Friday. You can find her blog and link up here if you'd like to join in. A good rant can be therapeutic.

On my hit list this week:
The new "reality" tv programme "Splash" that starts this weekend, on ITV, where celebrities are taught to dive, by Tom Daley. Before you all yell at me in Tom Daley's defence, I must say that I think he's lovely, I admire him, he's achieved far more than I ever will, he's an Olympic star, he's an amazing diver,  he lost his Dad recently to cancer. I don't have a problem with him, at all. I know he was harassed on Twitter, and hasn't had the easiest of times, I am NOT a Tom Daley hater.
I do however, wonder if ITV has lost the entire plot?? A programme about celebrities, learning to dive? On prime time weekend TV? I can't decide if they think we're entirely desperate, or if it's just me being mean, and millions of people will tune in to watch various "celebrities" belly flopping into a pool, and humiliating themselves, as they usually do on these programmes?
Is it just me or are we scraping the bottom of the barrel in the reality TV department? Really? Do people honestly want to watch a few random celebrities (including Caprice, I am sure she has been in pretty much every reality TV show going?) learning to dive off a board, even if they are being taught by the lovely Tom Daley??
I personally am not a big reality tv fan, to be fair. There may well be lots of people who will cancel their Saturday night plans to watch this programme, I guess we shall see. I may tune in to the first episode to see what all the fuss is about, but seeing as I haven't watched Big Brother since the first episode was ever aired, can't stand "I'm a celebrity, get me out of here" and refuse to watch any of the dancing/singing programmes on TV like "Strictly Ballroom" etc, I somehow suspect I will find my knitting more thrilling than this drivel ITV are serving up.
So am I alone, do you all think it will be marvelous, and have got your curry and wine prepped and ready to watch, or are you like me and think you'll be watching re-runs of Midsommer Murders on one of the other channels instead?
Next week, I will be ranting about child safety and clueless parents on buses. Tune in, if you want to read my rant….
In the meantime, have a good weekend!