I don't like change, I like things to stay the same. I get very anxious when change is in the air, particularly when I am not in control of everything. I'm a control freak, I know this.
I also know that sometimes change is good and is needed, and is unavoidable!
So, with that profound statement, I can tell you that change is in the air….
I am leaving WordPress and going to a self hosted blog. I will be keeping this name, the process has already started and the domain name will stay the same, so that's not that big a change really. I want to branch out, do some selective product reviews, be able to advertise things that I want to advertise and promote (friend's businesses, worthy causes) NOT use the system that WP uses. I also want to make my blog "mine" and with that in mind, I have approached a lovely lady recommended by a fellow blogger, who has agreed to take on the task of making The Mad Cats and Babies look beautiful and to design a theme based on some ideas I have in mind. I am not at all creative, and the thought of doing anything like this myself, scares me. I am very happy to pay someone else to personalize and prettify my blog, money well spent, I think. The blog will be moving some time this week, and may be down for a day or two. The company who are doing the changes assure me that all content, pictures, comments and followers will move, and when it comes back up, it will look pretty  much the same as it does now. As I am also technically inept, I am hoping they are right, I must admit I don't entirely understand the process but they are an excellent company with good reviews so I am hoping it will all go smoothly! The blogs new look won't be happening until closer to the summer, the lady designing it is very busy, and very much in demand, so I am booked in for when she is can fit me in, which is a good thing, I am not sure with the chaotic life that I have landed, and everything that I am juggling, in terms of the work I do, the kids, the house, etc, that I can quite get my mind around the blog change right now.
So, changes in blogland, but also changes at home, too. We have moved Small Boy out of his cot, and into a "big boy bed". I was reluctant to do this, at first, and we have put it off for a few months, because his sleep still isn't great, and we have a lot of disturbed nights under our belt, and the thought of him wandering the halls, at all hours, filled me with horror. However, so far, so good. We are on night 4 of the bed, and although he is still waking, and needing comfort and re-settling, he is staying in and LOVES his bed. We did try him sleeping in it with his sister, in her room, which is the bigger of their bedrooms, but his waking at night disturbed her so much, that we felt it was fairer they stick with separate rooms. I'd love for them to share, I think it would be very good for both of them, and they'd have fun, but to be honest, my poor Big Girl has been so tired and grumpy with her sleep disturbed (she needs a good 11/12 hours) and her behavior has been so poor this weekend as a result, and she also  has to manage  full school days as well, so we felt it was better to keep them apart for now. If  Small Boy does start to sleep better, we may reconsider in a few months. For now, one step at a time, and as LSH commented, "there is only room in this house for one tired, grumpy female, I can't deal with two of you in this state!" Bless him, it's been a long, coffee fueled weekend, as we have juggled bedrooms and moved furniture around.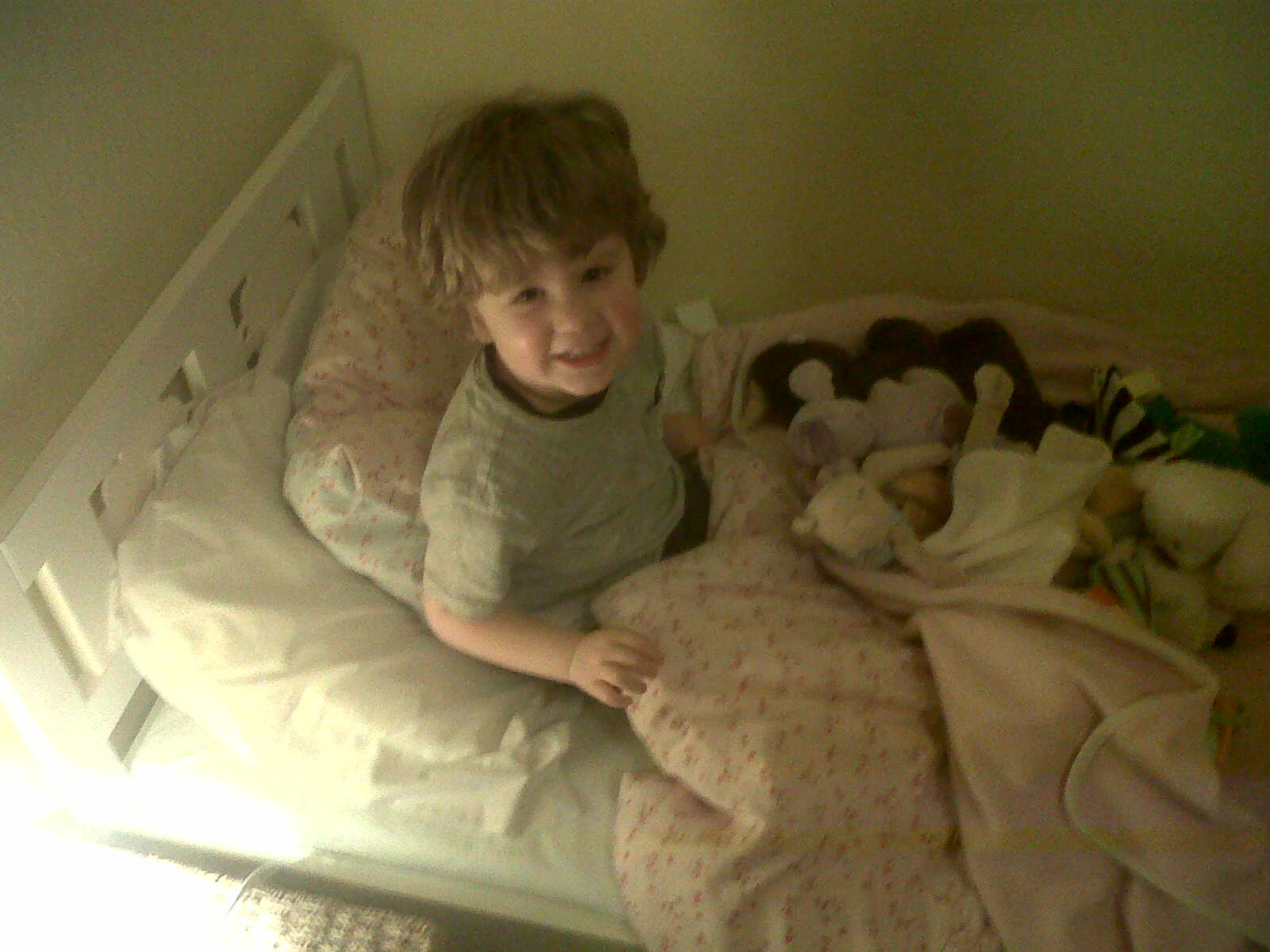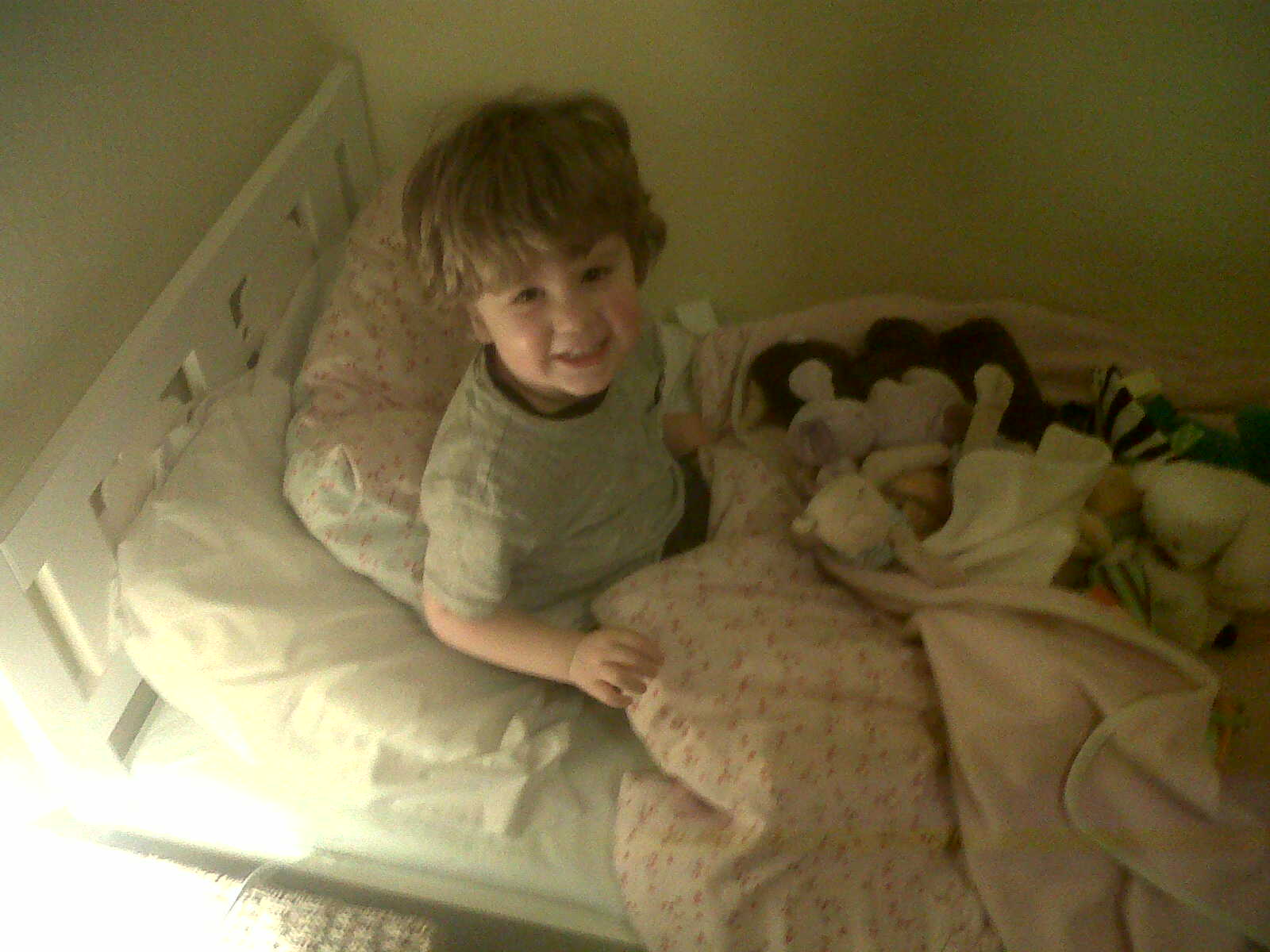 This is Small Boy in his new bed, (his sister's old one) in his room. He's currently using her pink bedding, we are waiting the arrival of his new bedding, hopefully tomorrow, along with Big Girl's new big bed, and bedding. She is currently sleeping on the pull out sofa bed. I suspect there will be a lot of work to be done, to get things looking just how she, I and he want them in the rooms, but it's a fun kind of change. I have just been up to check on him, in his new bed, he looks so little, sleeping sweetly.  A moment of brief heart ache, as I realize he really ISN'T a baby any more and is growing up so fast!
I am also going through some personal changes. I didn't make resolutions for this year, but one of my aims is in the next few months is to loose some weight, get in shape, and start running again. I am currently on "reduced" activity (does such a thing exist with small children around?) because I damaged my knee in October, and it has been too painful to run on, or even do much than gentle walking  (I damaged  a ligament, didn't rest, made things worse, now it is slowly healing)  I am seeing my physiotherapist this week, and am hoping to be given the go ahead (and a sexy knee brace to boot) to start exercising again. I need to, for my health and my sanity. I find running, alone is my best form of therapy, and I really am keen to be able to take it up again. My plan is to run in the evenings when LSH comes home, or to use our running buggy to run with Small Boy in tow, and as he weighs a good 34+lb, this will be a good work out for me.
So some good things happening, I am not freaking out too much. They aren't major, or scary, (although the dust bunnies we found when we moved Big Girl's toddler bed were quite horrific, I will be getting the vacuum cleaner out tomorrow and burning off some calories dealing with them) and I am looking forward to  a more in shape me,  a fabulous looking blog and hopefully, maybe, a little more sleep from Small Boy!
Change is GOOD!