This week is a bit of a mishmash of photos. I haven't actually taken that many this week, for some reason. The camera on the phone I have, is very basic, and doesn't take great photos, and our proper big camera needs repairing, but getting it done has been WAY down on my never-ending to do list,  and my little point and shoot camera needs a new battery. I guess that explains it? (I have just ordered a new battery for my camera, I actually stopped mid blog post to do it, so hopefully better quality photos will be on the horizon)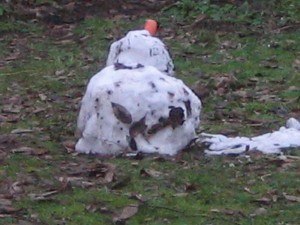 The children built this last Sunday, he is, apparently named Billy. Big Girl has been out every day to check on him, and a week later, thanks to the freezing temperatures we have had, he is STILL going, even if he is now a little misshapen. The rest of the snow is slowly melting, but Billy soldiers on. I wonder if he will still be here next week?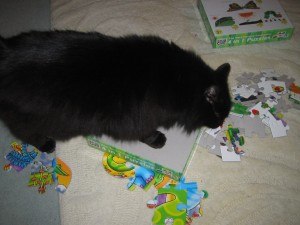 Jasper experienced his first snow, he was too little last year, and I don't actually think we had any, but this year, he had so much fun. My cats are definitely very un cat-like. Jasper LOVED the snow. He spent hours leaping about like a goat, all over the back garden, and rolling in it, and trying to eat it. He kept insisting on going out. Layla, however (pictured here trying to eat  a piece of the Hungry Caterpillar puzzle) loathes the stuff and refuses to go out in it. It got to a point where she hadn't been out for nearly 24 hours, and I could feel she needed to pee (yes, I can tell when a cat needs to pee, actually the vet showed me how to palpate her bladder, because she occasionally gets a bladder infection, and I need to check if she is actually emptying it, or crossing her legs and holding it in. A very useful life skill!) so I actually had to take her out, and pretty much make her go do her kitty business. She was not happy about the snow, and like me, is very relieved now it has gone.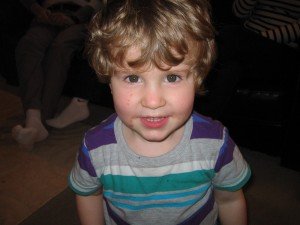 This little man has done a week in his big boy bed (that's blueberry juice on his face, his favourite sweet treat is frozen blueberries, but he gets very messy when he eats them) So far, it has been OK  We have had one or two good nights, where he has only woken once, or not at all, and one or two horrendous, needing coffee the next day nights. So no real difference from being in a cot. He does go to bed more easily though and seems very happy in it. One day, he will sleep through. In the meantime, I am considering asking Starbucks and YLS Touche Eclat to sponsor this blog, as they seriously are keeping me looking and feeling more awake!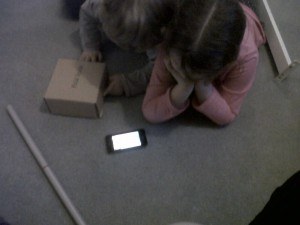 We also put up Big Girl's new bed up, a full size single, "Princess" style, (the catalogues wording, not mine, but she is of course delighted with this) We actually did the whole job, with the children in tow, which I must admit, initially I was reluctant to do, DIY or putting items of furniture together and small children, definitely don't mix, but actually, it all went remarkably smoothly. The children watched Cbeebies on the Iphone (OK, I will admit, they are pretty slick, far better media streaming and download than my faithful old Crackberry) for some of the process, and then got involved and "helped" us. We managed the whole job in record time, and LSH and I were still speaking to each other at the end, which was a bonus! 😉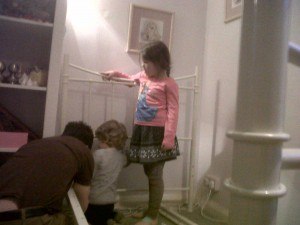 The instructions on the packaging said "may require 3 people to construct this item". We figure 1 adult, 2 small children and an adolescent cat (Jasper got involved too) were just about the equivalent of 3 people… I was taking the photos at this point, and issuing instructions (helpful ones of course!)
That's it for this week. Look out for a public toilet related rant tomorrow, in Ranty Friday.