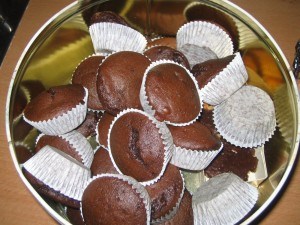 Have to be iced and decorated today (for tomorrow's music group)
That doesn't sounds like a big deal, but it has to be squeezed in amongst what seems like a million other things.
Big girl to school, collect Small Boy's best mate Max, who comes to play at our house on Monday's for a few hours. Entertain 2 Small Boys, or at least keep a sharp eye on them, while they play, because they both can get into mischief when they feel the need. Clean the bathroom, fold a heap of laundry (LSH will start complaining at having to ferret through the clean, but still mountainous pile of washing that is threatening to take over the house, soon) make a couple of phone calls I keep putting off, fill in a form for the dentist, wash and sort cloth nappies, prep a meal for a friend who has had an operation, and is in need of meals so she doesn't have to cook whilst she's recovering, prepare dinner for my own brood, feed the aforementioned 2 small boys their lunch, then get one ready for nursery  then take him there, drop him off, then jump on a bus, and  head to Kingston,  to set up for our music group tomorrow,  with just one Small Boy in tow, then head back home, via the shops, got to pick up for flowers for friend. Collect Big Girl from school, get her home, do her reading, get her lunch-box clean and ready for tomorrow, pack bags for Small Boy and I for tomorrow,  (we are usually out most of the day on Music days) get bedtime stuff ready, so LSH doesn't have to hunt it all down, serve supper as LSH walks in the door at 5pm, and I walk out of it, to go and help at the Brownie pack, that I volunteer at, once a week. (Oh,  and I am teaching them about heart conditions in children tomorrow, night, because we are doing the Healthy Heart badge this half of term, so I need to dig out my stethoscope from my old nursing bag, and print out some basic stuff on how heart conditions affect children) And I will be dropping the meal off to my friend on the way as well. Oh, and I mustn't  forget to give the cats their worm medication, that will be my fun task of the day, pinning Layla down, and persuading her to take her pill, she is grumpy at the best of times, tablets make her even more so!
Come home, clean up kitchen (if LSH hasn't done it, he usually does, but if bedtime has been challenging, he may not have got there yet) feed myself, have a bath, make sure we are all ready to go for the next day, tidy up any stray toys, get both kids clothes out for tomorrow, read a few e-mails, send a few e-mails, then go to bed…
I am sure I will get those cupcakes decorated, somewhere in there today…. I often joke to LSH that I actually wouldn't know what to do with myself if I wasn't busy and on the go all the time, I would probably die of boredom!
Have a good week 🙂