No Ranty Friday post today! 
Instead I am blogging about #TeamHonk and #goodwork
I follow MummyBarrow's blog, and also Mammasaurus and The Alexander Residence, and this week, these ladies have been in  Ghana, 48 hours with Comic Relief, live blogging and tweeting from four projects out there to show just what Comic Relief  have done with all the donations over the past 25 years of Red Nose Day.
I was very lucky to be able to receive a digital postcard from them, this week, showing some of the things they have been up to and how and where the money that has been raised, is going and the people and projects that are benefiting from funds raised.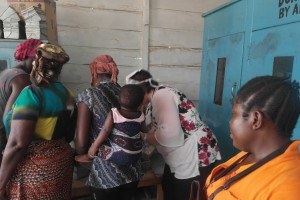 For the past 25 years the money raised through Red Nose Day has been changing the lives of the poorest and most disadvantaged people in the UK and Africa. Let's Keep Up the Good Work. Find out how at rednoseday.com
For other digital postcards please do check out the linky on www.teamhonk.org
I've been reading the blog posts during their trip and am blown away by how even a small donation of £10 can do so much.
Please go and read, and see what they've been up to, and check out the Red Nose Day website too and consider donating, even if it just a small amount. We've just donated, and the kids and I will be picking up our Red Noses this week from Sainsbury's and will be wearing them with pride on Red Nose Day! 😉