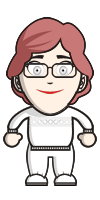 So this is me…
OK, it's not me, it's an avatar of me, I had fun playing and creating this on Doppelme
So what? You are now asking. So this is me, a bit frumpy looking, trying to grow my hair out, because I would like it longer than the current cut, in my standard uniform of a soft, baggy jumper or sweater, with soft trousers, and my faithful walking shoes.  (I did add the red lipstick in, to make it more me 😉 )
One of the many reasons for me signing up for the 10k Richmond River Run in September this year, was because I am FED UP with being over my ideal weight, and of my frumpy image and I decided that getting fit, and in shape, whilst trying to raise some money, would be good for me. I  find gym regimes boring, and a waste of money, I don't do group exercise, aerobics classes etc.  I am not co-ordinated enough, and frankly, don't enjoy it. I love running though, I find it is good for my soul as well as my body, and I have missed being able to run, due to my knee problems, and to be honest, being utterly exhausted with lack of sleep and parenting life generally getting in the way, so I have made little or no effort to exercise since Small Boy's arrival.
I have gotten lazy, both in the exercise and eating department, and also in making an effort to look nice, and wear non frumpy clothes. I basically don't like the size or shape I am, post two births, and two long stretches of breastfeeding, and I don't make an effort to wear nice clothes. Mainly, because most of mine don't fit well, any more, and because I refuse to go out and buy big floaty tops to cover, my (to put it bluntly)  "slightly bigger than it was before I had babies" boobs.
I normally wouldn't be to phased by this. I know loosing weight, getting back in shape, and getting fit don't happen magically overnight, and I have a long haul ahead to get where I want to be, but this week, a lovely friend of mine is having a birthday, and for her birthday, she has organised a meal out and asked us all to get dressed up. Normally, this would be fine, whilst I am not a big dressy up person,  I am happy to get my glad rags on, and try and look nice, but my self confidence has hit a bit of a bump, and I am suddenly feeling very self concious and having a minor panic about the state of my body, and my wardrobe. I feel comfortable in my frumpy, but practical Mumiform, that I have got used to wearing since Small Boy arrived, and the idea of trying to look glamorous  and nice, for an evening out, has really made me realise that I do need to get myself in shape, make more effort to exercise and also to try and dress better.
I confessed all this to another lovely friend, this past weekend, not quite in tears, but almost… "I'm fat, frumpy, I hate my clothes, I don't like my body, and I DON'T want to dress up, because I will look like a freak" were my words! She was very sweet, and pointed out the things I know, but that I needed to hear again, to refresh my memory, that my body would never be the same as it was when I was 21, that I had grown, nurtured, birthed and fed two babies, and some of the changes from that would never go away, and she also gently prodded me, that if I didn't like my shape, and my size, that I needed to sensibly do something about it. This friend has seen me at my worst, in all shapes and sizes, from when I was in a very bad way with an eating disorder, to being pregnant and suffering with rampant HEG, to when I was struggling with post partum depression. She knows me well, she doesn't pander to my ego, but she also knows that self image and how I feel in my skin are sensitive issues, even if I have been in recovery from my eating problems for 13 years. Unfortunately, she can't come and help me solve my wardrobe crisis, because she is far away. All our conversations have been via e-mail and phone, but she helped me to get my perspective back, and to get my bum in gear, so to speak.
So, hopefully, with a new exercise regime and some sensible eating, this: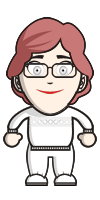 won't be me for too much longer. I plan to do my first run this Saturday, and the weekly grocery shop is already reflecting my improved eating plans. I will be updating on my progress as I go!