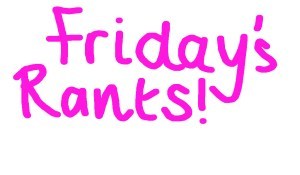 Welcome to my Friday's Rants from the Soap Box in my Living Room. A small space in the week where I can have a chunter about things that have made me twitch with annoyance or made me question if the world has gone mad or not….
I also  linked up with MummyBarrow for her Ranty Friday. You can find her blog and link up here if you'd like to join in. A good rant can be therapeutic.
By rights, I should be a millionaire, many times over, if I believed the 42, yes, 42, spam e-mails I have received this week alone, claiming to want to send me hundreds, of thousands of dollars.
Yes, folks, my rant this week is about those silly, completely fake, and if you read them, entirely unconvincing e-mails from either a sad old lady in China, claiming to be dying of cancer and wanting to leave you, beloved (why do they call people that in e-mails, who calls total strangers that??) her entire inheritance, if you will send her your bank details and a small fee, or even better, someone claiming to be the personal secretary for the US Ambassador in Nigeria, stating that due to some dodgy business dealings, which some organisation in Nigeria have uncovered (totally fake, but the name of the company is real, and actually, the mail I got did have the correct name of the current US Ambassador and his secretary – amazing what a little Googling can find you) and now they want to reimburse me for some money I invested in said business which turned out to be a scam, IF of course, I will send them my particulars, bank details and of course, the obligatory fee of about £200.
These mails are badly spelled, their grammar is so poor, I am pretty sure my 6 year old could write better, and they are so alarmingly fake, I am stunned to find that people actually fall for them, send them money, and of course do NOT end up with a small fortune in return, and in fact can be conned out of even more money. Sad, but true.
Some of them are actually quite hilarious in their falseness  and poor spelling and grammar. This one below arrived in my inbox this morning. I am tempted to reply, just to see if they respond. This one apparently is from the FBI and allegedly if I don't respond, I could be prosecuted! I am quaking in my boots….
                              Federal Bureau of Investigation
                                  Intelligence Field Unit J. Edgar Hoover Building
                                    935 Pennsylvania Avenue, NW Washington, D.C.
I am Special Agent Jason Gale from the Federal Bureau of Investigation (FBI) Intelligence Unit, we Intercepted two consignment boxes at JFK Airport, New York, the boxes were scanned but found out that it contained large sum of money ($4.1 million) and also some backup documents which bears your name as the Beneficiary/Receiver of the money, Investigation carried out on the diplomat that accompanied the boxes into the United States, said that he was to deliver the fund to your residence as overdue payment owed to you by the Federal Government of Nigeria through the security company in the United Kingdom.
Meanwhile, we cross check all legal documents in the boxes but we found out that your consignment was lacking an important document and we cannot release the boxes to the diplomat until the document is found, right now we have no other choice than to confiscate your consignment.
According to Internal Revenue Code (IRC) in Title 26 also contain reporting requirement on a Form 8300, Report of Cash Payment Over $10,000 Received in a Trade or Business, money laundering activity may violate 18 USC §1956, 18 USC 1957, 18 USC 1960, and provision of Title 31, and 26 USC 6050I of the United States Code (USC), this section will discuss only those money laundering and currency violation under the jurisdiction of IRS, your consignment lacks proof of ownership certificate from the joint team of IRS and IRC, therefore you need to reply back immediately for direction on how to procure this certificate to enable us relieved the charge of evading the law on you, which is a punishable offense in the United States.
You are required to reply back within 72hours or you will be prosecuted in a court of law for money laundering, also you are instructed to desist from further contact with any bank(s) or person(s) in Nigeria or the United kingdom or any part of the world regarding your payment because your consignment has been confiscated by the Federal Bureau here in the United States.
Yours In Service,
Agent Jason Gale
Regional Deputy Director
Intelligence Field Unit
Fortunately, I am not stupid, I am not going to fall for this rubbish, I am not sending them any money, or my bank details, and I have never been involved in money laundering in Nigeria (or anywhere else for that matter!)
I have to wonder how much money these scams actually make? Seriously people, if it looks to good to be true, then it is, and it's a scam.
That's my rant for this week! Have a good weekend!