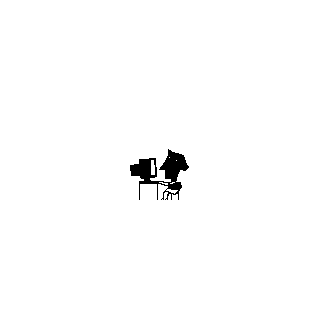 So, my Twitter and Facebook Blackout  has gone pretty well. I have less than 2 weeks left. I am quite looking forward to getting back to Facebook and Twitter, although I will be drastically reducing both my friends list, and my usage and the amount of time I spend on there.
Next on my hit list, is e-mail and the fact that it comes down to my phone, which is pretty much always on, and I use it a lot. I feel obliged to read my e-mails and respond to them, because I have them to hand, and on my BlackBerry. I actually find this overwhelming, and as LSH pointed out, it actually is also a distraction and isn't probably as "necessary" as I have made it to be. Whilst it is handy, and useful, it actually doesn't need to interfere with my life, and I am an A type, OCD personality, so if I can see a mail on my phone, I will open it, read it, likely answer it, even if I don't NEED to.
I have 3 mail addresses. One for the work I do for the toddler and music groups I help to run, one for personal, that LSH and I have used, since we got married, and one for the blog/Ebay etc. Between them, I get a fair amount of mail.
None of it is usually ever urgent, or life shattering in its need to be read and replied to, and to be honest, I have let myself get to a place where people expect me to reply to them instantly, and it really isn't necessary.
So, for a few weeks, as an experiment, I have taken all the mail accounts off my BlackBerry, and will only be replying to mails, when I sit down to read them, when I have time, and when I feel like I want to. This will be an interesting little side trip to my trying to reduce my usage of social media. I will see how it goes. I figure if someone wants to get hold of me urgently, they can actually call me. I don't work in a job, where I NEED to be accessible, where e-mails HAVE to be answered or millions of pounds will be lost, nor do lives depend on it, so I think it will be a good break, and it may become permanent, we shall see how it goes.
So, if you want me, please feel to mail me, but I won't be replying instantly, unless your mail hits my inbox when I happen to be at the pc, or reading mail on my Kindle. Feel free to call me. I have found I make more calls, now I am not in so much contact on Facebook and Twitter, it's actually quite nice to talk to people.  I'm going to give it  a month, and see how it works. LSH is very happy with this, anything that reduces his having to compete with my BlackBerry for attention is a good thing as far as he is concerned.
PS less than two weeks until I am allowed back onto Facebook and Twitter. If you would like to sponsor me while there is still time, click on this link HERE!
Thanks!