This week, I am writing about our visit to the Tate Britain, for Tuesday's reviews!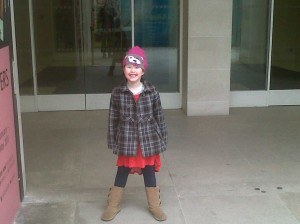 (Big girl outside the Tate, waiting for Aunty Jill to arrive)
We visited the Tate Britain, in London, last week. We had planned a family day out, and to meet LSH's Aunt, Jill, there for lunch. She was an art teacher, before she retired, and is very knowledgeable in all manner of arty things, and she was very keen to show Big Girl some fabulous Impressionist art, and teach her a little bit. Big Girl has a bit of an artistic streak, which Aunty Jill is keen to nurture, and I am not at all artistic, although I do love looking at paintings and sculptures and learning about them, we thought it would be a fun visit. The Tate also does activities for smaller children, and we had planned for LSH to take Small Boy to some of those, while the girls took in some art and Aunty Jill did a bit of teaching!
Sadly, Small Boy and LSH came down with stinking cold's the day before our planned visit, and on the morning of the trip, Mummy the Nurse decided that they should stay home, in the warm, and recuperate, but Big Girl and I would go up to London as planned. We arrived at the Tate in time to meet Aunty Jill, and off we went to explore.
Unfortunately, the day was pretty disappointing  The Tate is undergoing some major renovations, which we were aware of before we arrived, but we were not impressed by how they are handling things in the interim, the catering facilities, the general organisation of the place while things are being changed, meant  it really wasn't a fun visit. They clearly hadn't anticipated how popular  their  Big & Small Day which was free,  and was absolutely heaving, because it was half-term, and a winters day. The main restaurant is being renovated, which is fine, we hadn't planned to go there, because it isn't really a "family" place, too posh for a lunch with small children, but their cafe facilities were not up to scratch either.
There were some good bits. We saw some lovely paintings and sculptures, and even I, not really knowing much about art was able to recognise a few, and we enjoyed Aunty Jill talking to us, and teaching us about some of the artwork and pointing out some painting techniques, and the shop was fun to explore,  but sadly, the bad points outweighed the good…
the two cafe's which one assumes are temporary, were small, cramped, didn't seem to have planned for the half-term rush, and lots of families taking advantage of the free activity session for children. The food was incredibly expensive, and we felt not good value for money. 2 mediocre and fairly small portions of macaroni cheese, 1 shepherds pie, and 3 soft drinks came to £32. The food wasn't that warm and when we arrived at 1230pm, we got the last portions of the current batch, and were told that it would be ten minutes before the next lot arrived. There was an incredibly limited amount of alternative food, like sandwiches or salads, available, and none of it was suitable for LSH, so again, we were glad the boys had stayed home.  The cafe was crowded, there were few high chairs (which I always take note, of being a mother of small children) and it wasn't an enjoyable lunch. Our coffee experience on arrival, had a similar feel. Again, crowded, cramped, expensive, and not ready for the half-term rush. 

The galleries seemed to be a bit chaotic, with a lot of artwork taken down while the renovations are taking place, which is fine, we understood that, but of the 5 people we asked for help, and where to find certain things, and for directions to the cafe and to various galleries, only one had any vague idea of where anything was (the maps we were given were not that clear either) and she was only there for the day as a temporary guide.
The half-term activity for children was badly organised, chaotic, and again, I don't think they had taken into account how many people would actually turn up. At one point, we were struggling to get through to a gallery, via a main walkway and vestibule, because one of the art activities was basically taking place all over the floor, with children, paper, and craft things strewn all over and we struggled to climb over children and bags and bits and pieces to get to where we needed to go, because we couldn't find another way round. I am quite glad Small Boy wasn't with us, he would have been miserable, with the crowds and the noise and having to move about so much to find different activities. The activities themselves looked fun, but in reality, it was chaotic, and badly organised.
We left feeling rather disappointed  and like it had been a bit of a waste of a day. To be fair, entrance is free, the activities for children were free, and I know they are doing major work to improve and update the place, but to me it seems like they hadn't planned or thought about how busy it would be, and the catering provision was appalling. I think we will wait until the renovations are complete, and hopefully they have worked out better catering and eating facilities, before we venture there again. We had fun seeing Aunty Jill, but it wasn't a day out I would like to repeat, and to be honest, if it is going to be that chaotic, I wouldn't recommend taking children there, until the overhaul is finished.
I would love to hear from anyone who has had a similar experience, or even had a better day out than us, and would like to tell us about it. Please feel free to comment!
*This review was not sponsored or paid for, all thoughts are my own, with some contribution from Aunty Jill. We were not compensated in any way – please see my disclosure policy for more information*