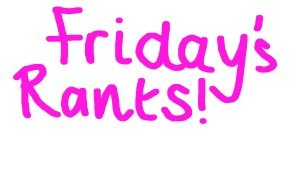 Welcome to my Friday's Rants from the Soap Box in my Living Room. A small space in the week where I can have a chunter about things that have made me twitch with annoyance or made me question if the world has gone mad or not….
I also  linked up with MummyBarrow for her Ranty Friday. You can find her blog and link up here if you'd like to join in. A good rant can be therapeutic.

You've got to get yourself together
You've got stuck in a moment
And you can't get out of it
Don't say that later will be better
Now you're stuck in a moment
And you can't get out of it
And if the night runs over
And if the day won't last
And if your way should falter
Along this stony pass
It's just a moment
This time will pass
These lyrics, written by Bono, from U2, for Michael Hutchence, describe how I felt, stuck, in a moment, that I couldn't get out of.  I knew I had to get better, I knew I was unwell, that I needed help, I just didn't know how to admit it, to myself and other people around me. Shame, and fear, because I knew some people wouldn't understand, kept me from asking for help. 
This week, the topic is an area I feel passionately about. I am speaking from personal experience, and also on behalf of others, who have been where I have been, and some who are still there.
In my bio, on Facebook and Twitter, I mention surviving Post Partum Depression and anxiety. I was unwell, after Big Girl was born, until she was 2. I have struggled with mild anxiety all of my life, and the depression took hold probably before she was born, but manifested properly the day she arrived. I have not written about it, mainly because it is still painful for me to talk about. One day I will.
But, I am not ashamed to admit I struggled with depression and anxiety, and I will talk about it, if asked. My reason for ranting this week is because I am angry and frustrated that people seem to think depression, anxiety and other mental health issues are either something they can't deal with and when someone is struggling in this area, they run away, faster than you can say "I've got Ebola" or they say stupid and inane things like "you don't need to feel this way, you COULD get better if you wanted to, just snap out of it" (yes, I have had this said to me)
I read a blog post yesterday, a fellow depression sufferer, who is struggling, and is finding that the world is less than compassionate to her struggles. It made me sad, to see that she has a GENUINE illness, yet she is being treated like she is making it all up, faking it, that she should "get over it" and people react so badly to her diagnoses. When you don't understand something, sometimes it can make you feel uncomfortable. You may not know exactly what to say, or how to respond, but responding in ignorance and treating a person like they are less human, because YOU don't comprehend what they are going through is just wrong. When someone has cancer, you don't run away, pretend you don't know them, freak out because you don't know what to say or do, because you don't understand what they are going through, so why do you react that way when someone has depression. It's a recognised medical condition, it just isn't' physical. The brain is an organ, it can get sick, or not function properly, and cause our minds to breakdown, just like other parts of our body can cause problems.
someone with depression cannot HELP how they feel, they don't choose how they feel, they don't suddenly wake up one day, feeling like they want to end their lives, that they are not worthy  of love, of relationship, of their families and friends. They don't want to struggle to function, to cope. We CANT HELP IT. WE DON'T WANT TO FEEL THIS WAY! It isn't something you can just "stop" or "get over" and it deserves just as much sympathy and support as an actual physical illness. If someone told you they had cancer, you would hug them, support them, ask them how you can help them. You don't tell them to get over it and snap out of it. Don't do this to a person with a depression diagnoses (or any other diagnosis like anxiety, OCD, bulimia, anorexia etc.)
Depression doesn't just go away. It doesn't just leave. We don't choose to be unwell, just as someone with cancer, or another illness doesn't choose their disease. We can't just wake up one morning, decide to no longer struggle, and be our normal selves.
We can choose to seek treatment, get therapy, take medications, deal with things that may be triggering or causing our illness, we can get help. But like other illnesses, this process takes time. We need love, patience, tolerance, and understanding as we try to heal and get ourselves into a better place. Sometimes this can take months, or even years. We are still people, we are unwell, you just can't see it physically.
Please don't patronise, or belittle someone with depression. If you don't know what to say to someone with depression or anxiety don't just push us away. Tell us "I don't know how you feel, I don't understand why you feel the way you do, but I want to be your friend, how can I help you?". It's not that hard. One day, hopefully we will be well, and we will have appreciated your support and love on our journey to healing.
I personally chose a mixture of things to treat my PPD and PPA. My faith and the church I belong to helped me, I also saw a psychiatrist, and then had Cognitive behaviour Therapy, both in a group and one on one sessions with a therapist. I chose not to take medication, because personally, most antidepressants don't work well for me, I suffer from what is called the paradoxical effect with most of the commonly prescribed medications, and they either make me feel worse, or make me manic. The one or two that do work for me, were contraindicated for breastfeeding. I have been well, and depression free for almost 4 years, but I am still aware of how hard it was, what a hellish journey it was for me, my family and friends. There were points during my illness where I felt that I was not worthy of living and that my family would be better off if I died. There were days when I would literally be physically ill, when the depression and anxiety took over and even getting out of bed, and doing "normal" things were almost impossible. When you feel like this, to be told you need to "just get over it", it is like being slapped in the face, then pushed deeper into the dark hole you are trying to get yourself out of.
I realise this is a long rant, I realise it's a touchy topic, I realise it may be difficult to understand, but please, don't do more damage, to someone who is battling for their life and their mind.
Rant over!