My Magic Moment this week is a bit random. I was actually a bit stumped for a post, and was almost tempted to miss it, as I had nothing to share but then I had a little moment on Saturday, and thought I'd blog about it.
I have an old, old watch. A Swatch Watch, that I bought for myself, nearly 15 years ago, just before LSH and I started dating.  It's pink, chunky, waterproof, and very sturdy. It served me well, survived my student nursing days, travelled with me, worn everywhere. I'm not a "delicate" watch person, this old watch is tough and chunky.  I replaced its strap and batteries, and it kept going. After Big Girl was born, the strap broke, and I searched in vain to find a replacement strap, but it turns out that Swatch stopped making straps for my watch, and it was consigned to their "retro" section, and ironically, had doubled in value from when I bought it. I tried Ebay, various websites, and finally gave up, and put it in a drawer, bought myself a cheap watch, and forgot about it. Occasionally, I have looked for a strap for it, but in vain.
On Saturday, I took it out of the drawer and decided to have one last go at replacing the strap. There's an old-fashioned jewellers in Richmond, and I noticed they have a Swatch section, and a selection of straps, so I popped in there, and asked them if they could fix it? The woman assisting me, was dubious, but then the manager of the shop remembered that he "might" have an old pink strap, that would work. He went and rummaged, and came back, with a strap. He said it had been in his store-room for ages and he had been about to throw it away as it didn't fit any other Swatch watches, and again, he commented that mine is "rare" and apparently a collectors item. He fitted it for me, and replaced the battery, and gave the watch a clean, and now I have my treasured watch, back and working. I'm funny, that way. Whilst I love flashy gadgets, and new things, I also love old and reliable things, that work, and my watch means a lot to me. Sounds silly, but I am so delighted to have it back on my wrist. If I hadn't decided to take it with me, I may not have ever got it fixed.
So this, my old watched, made almost new, and working well, is my Magic Moment….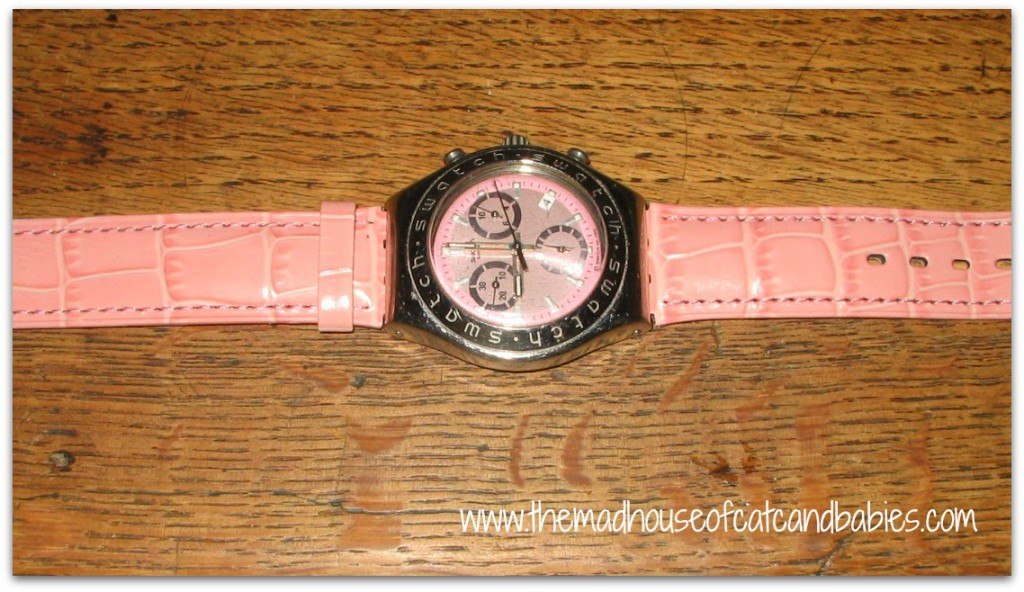 Why not join the linky at The Oliver's Mad House