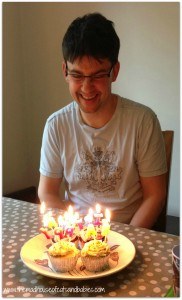 This week, I am taking a week off, and have delegated some of the blog work to the other members of the Mad House of Cats and Babies.
LSH is writing the Magic Moments post this week, so I will hand over to him and let him loose….
Well it is a rare privilege indeed to follow in the footsteps of my wife's eloquent and witty posts…  After what has been a hard year or two in many ways I feel that the two parties my wife has organised, Matthew's last weekend and mine this have heralded a new season for us, and a little bit of sunshine hasn't hurt either :).
We are after all social beings and some time out getting together with close friends celebrating what is good is always healthy for us.  These special times help us take our eyes off the trials and shift them to our blessings.
It has to be said it was a good birthday week, starting with Star Trek last Saturday night, positive medical appointment on Tues giving us some solid answers for Matthew's ears, gluten free cakes as seen above and the piece d resistance… my wife throwing me my first ever surprise birthday party last night!
She carried it off like a pro although if I had really had a mind too I could have read some tell tale signs with my daughter being spoken too in hushed tones a few times this week and an out of place Ocado shop arriving 24 hours after our normal weekly Tesco shop yesterday afternoon.
My brother was entirely complicit in the plot and took me out for a leisurely drink at one of our local pubs whilst the final pieces of the party were falling into place.  I was taken home for 7:30 to a very excited daughter who insisted that she had something to show me in the lounge… And there they ALL were!  I didn't burst into tears or run out, it was more of a slow realisation that our friends were actually in our lounge and I wasn't imagining it.  It was a strange feeling as I had no idea how long they were going to be there or what Karen had planned, was it drinks, was it dinner, who could say?
Well I quickly found out that it was dinner (which would explain why all non-essential items had been extracted from the fridge and piled up elsewhere!) and settled in to a lovely evening with lots of laughs.
So… many many thanks to my wonderful wife who despite being exhausted has pulled off two parties in two weeks and really given some very special moments to both the boys in the Reekie household!  Karen I am so proud of you, you are amazing!
( handing back to the normal author of this post now 🙂 )
Head on over to The Oliver's Mad House or click on the Linky below to find more Magic Moments….