I am now, back to doing this: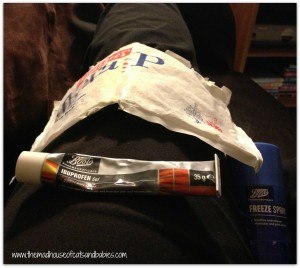 3x a day, until I see my physiotherapist at the end of next week. I am not allowed to run, nor am I supposed to lift heavy stuff and take strain on my knee. I am feeling a bit blue about the whole thing. Think of something funny and cheer me up! (and be very relieved that it wasn't a actually picure of my very wintery, white leg, with it's swollen knee, that hasn't seen much sun yet! 😉 )
Hop on over to Mammasaurus to see more Sat Cap and join in the fun!