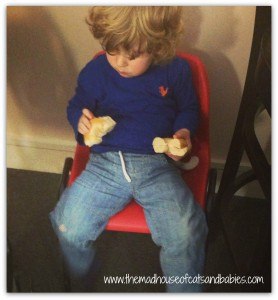 I didn't do a Magic Moment post last week, but I am back this week, and linking up with The Oliver's Mad House, as usual. Click on her linky at the end of this post, to join in, and to see other Magic Moments posts.
As part of my "job", I run parent & toddler groups, and help with a kids music group, at our church. Both have grown tremendously, and if I say so myself, are very popular, and busy, and I really enjoy what I do, and working with all the people I meet, and providing a community and social outlet for local mums, grandparents, dads and child care providers.
One of the difficult, things, however, has been that Small Boy has HATED coming to the groups, with me. It all seemed like the very ideal job, working with families, which I love, bringing him with me, so no childcare, and it is term time only, so fits around school hours. But, because, we now know he has some mild sensory issues, related to his chronic ear infections, and doesn't like crowds, lots noise or busy spaces, and gets very distressed, when he is subjected to these, we made a decision that he comes with me to the music group, which he occasionally will take part in, but more often sits on my lap, or hangs around with me, while I welcome and look after people, and he goes to a very lovely, local child minder, for the other two mornings. It sounds very weird, and it took me a while to feel comfortable  explaining to people, when asked, where my child was, and why he wasn't at my lovely group with me, and I felt guilty for ages, but to be honest, I felt that my carrying on working was important to me, and was good for my mind, doing something other than being "Mummy" and it was incredibly stressful trying to cope with a very upset and tense toddler, whilst running the group. We thought he might "get used to it" and I persevered for months, with him, trying to get him to settle, but we finally came to the conclusion that he was happier and less stressed at the  child minder. He adores her, she has looked after Big Girl since she was 9 months old, and is more like an aunt or a close friend than a child care provider.
Anyway, this week, she has been away, on her annual 10 day holiday, much-needed and deserved, and because my Dad is also on holiday, and I would normally ask him to help out, if he was available, we realised that Small Boy would need to come with me, to my noisy, fun, busy, full of people he doesn't know, groups, this week. I must admit, I was full of dread, that he would really not cope, and be miserable, and I would struggle to help him handle things, but he, as usual, surprised me, and with a lot of talking about what was happening, explaining what I was doing, making sure he had plenty of snacks in his bag, and access to the Kindle Fire, if he wanted to go off to a quiet spot and watch some CBeebies to take a break, he really handled it better than I thought he would. We talked about not biting, which is something he does when he stressed and people are in his space, and he feels overwhelmed, and I kept a close eye on him, all the way through the session, but he coped so well, when you add the fact that we also suspect he has an ear infection, which makes him feel even more not himself.
So, my Magic Moment this week, was being proud of my Small Boy, who handled himself so beautifully, and only started to melt down and need lots of TLC at almost the end of the session. It was  a hard thing for him to do, he is only 3 and not able to vocalise or express his issues, like an adult, and being put in a situation that he struggles with, and managing not to freak out, was a huge thing for him. He starts nursery in September, and we are hoping by then, that his ears will be healed, and we will be working on helping him deal with his mild sensory issues, so that he can enjoy his sessions, and this week has given me renewed hope, and I am proud of my boy. He is with me all this week, too, and I am actually looking forward to spending time with him, and hoping he may even make some new friends in the group this week!
The photo is of him, having his snack, quietly, in a corner I had laid out for him, away from everyone, if he felt he needed some quiet. I found him, there, munching away, when it was particularly noisy in the middle of the session!