LSH and I went out on a lunch date, alone. We had organised for Big Girl to be be collected from her nursery, by her lovely child-minder, for a few hours, so we could have some much-needed time together, on a week day, for a treat.
We went to a local restaurant, and I was craving steak, which is unusual for me, I occasionally eat red meat, but am not a big fan. I ordered, ate and thoroughly enjoyed it. We then wandered down to Starbucks, in Richmond high street, because, oddly, I was still hungry. I walked into the coffee shop, and the smell of fresh coffee hit me, hard, and I thought I was going to throw up. Those of you who know me, know how much I LOVE my coffee, know that this is an odd reaction, and I knew, and LSH was beginning to suspect that my reaction meant only one thing, so off we went to buy a pregnancy test. it was positive, and lo, and behold, a certain Small Boy, as he would come to be known, was on his way, and making his presence felt, already, and hasn't really stopped since!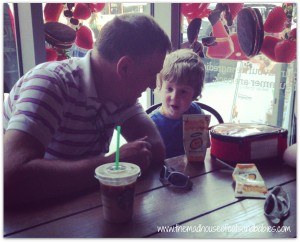 With Grandad, in the very same Starbucks, 4 years later!
I can't believe it is actually 4 years since we found out.
Sharing this with The Oliver's Mad House for Magic Moments. Click on the linky for more and to join in….