So, Big Girl has finished school for the year, and we have six long weeks of school holidays ahead of us, and I am actually glad. I have seen a lot of Twitter, Facebook and blog posts with tinges of dread at the stretch ahead for most parents of young children, and how we are all going to cope, and I am not anticipating that there won't be times when I am feeling frazzled with two small children at home, but for some reason, I just feel relieved right now.
We are all tired, and nerves are little bit on edge, more coffee being consumed, (by the adults, not the children, I promise) and far too much tv and screen time has been absorbed by both my children, as I have gotten to the point where, when she comes home from school, I can't bear to fight with her, all she wants to do is collapse in a heap on the sofa and watch TV or play games on my Kindle. She is exhausted, both physically, and emotionally, I think. She cries at the drop of a hat, over things that wouldn't normally invoke tears. This morning, for example, I asked her to brush her hair, she then burst into tears, claiming it was too tangled for her to attempt it herself, so I helped her, and she wailed and sobbed throughout the 5 minute experience like I was torturing her. This is not my usual, sunny, happy girl.
I know how she feels, when I get like that, I want to shut the world out, and even small things send me into a fit of tears, when I am tired. Heck, I have been tired for so long, I think I have become almost immune, and possibly have forgotten how she feels, and have not been as patient or as understanding with her, as I should be. It's been a long year for her, the step up from Reception into year 1, with more work, less play, huge growth spurts, starting to lose her baby teeth, my now working almost part-time, and life being a bit more chaotic at home, as we all adjust to that, plus some small things at school in the past few weeks, that whilst not dire, but that have made life a bit more challenging for her, and us as parents. (Some bullying, and behaviour issues with other children in the class, it has been dealt with, I have been very pro active in protecting my own child, as well as trying to see the other side of things from the teacher's point view)
We have no school runs for 6 weeks, no need to be rushing about in the mornings, so she can sleep in, if her little brother will allow (he wakes up and instantly wants to go and wake his beloved big sister, we have to try to keep him quiet and away from her, he is a morning person, she is most definitely NOT and the drama that ensues when he climbs into her bed and tries to wake her up, whilst slightly amusing – pre teen strop meets lively 3-year-old, it is nice for her to sleep in, when she needs it) We don't have any homework, although we will be doing a lot of reading, and I have some creative writing activities she can do, if she wants to. We can stay up a bit later in the evenings, if she wants to, with no worry of it being a school night, and an early start the next day. She needs a break, we need a break, we need to be able to relax, play a lot, do lots of fun activities, see friends we normally don't see, because of school, and after school activities, Grandma and Grandpa are arriving from South Africa next week, we have sleep overs with friends planned and days out to look forward to. I am happy the summer holidays have arrived!
So, yes, I have six weeks of holidays, a house to keep semi tidy and organised, extra mouths to feed, a slightly damaged foot, which means I am not as fast on my feet, and in some pain, yes, I have two children to keep entertained and occupied, but right now, I don't mind. School's out for the summer, and I am glad!
We shall see how I feel at the end of the summer… 😉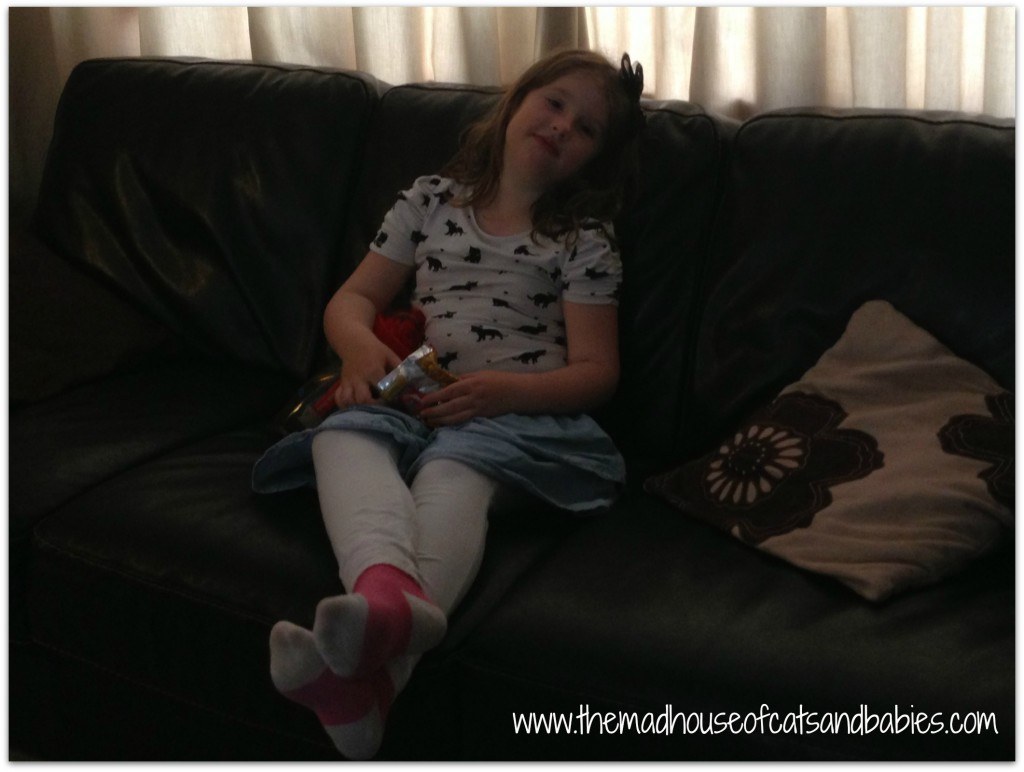 (Already starting to relax, one day in, she says she feels tired, but glad to be on holiday)