I was, a bit of a loss as to what to write for this weeks Magic Moments, hosted by Jaime at the Oliver's Mad House.
We have had a bit of a hodge podge week, with school breaking up for the summer holidays, my foot being,  for want of a better word, broken (it's not broken, but I have damaged some tendons in it, and it has made life a tad more chaotic and challenging than usual, with me being a bit grumpy, in pain, and not as fast on my feet as I am normally) and then various social events and outings, which have been lovely, but out of our normal routine, so the children are a wee bit tired, and I am also tired. Thankfully, LSH is at home, for a week, so he is able to keep us all in order and help out. I will probably cry when he goes back to work next week! 😉
On Saturday, we went to Essex, to visit LSH's aunt, and we had a lovely day, but unfortunately, there was an accident, on the motorway, on our return home. As we arrived at the turn off to the M1 which is the major route in and out of London, we saw a "Police, Road Closed" sign. The very sight, brings a feeling of doom to tired parents, with two slightly overtired, possibly a little bit whiny, needing their supper children, as we tried to scramble an alternative route home. The accident looked serious and we weren't sure when the road would re open, and we had visions of being stuck in traffic for hours, children falling asleep on empty tummies, then waking up and not going to bed 'til a silly, past parent bedtime hour.
We ended up deciding to drive to a service station, to feed the children, take a toilet break, and plan our alternative route.
We arrived at the service station, and there wasn't much choice, it was Burger King, or not much else. I am not a huge fan of fast food, it's regarded as a special treat, in our house, for the children to have chicken nuggets and overly salty fries, and an annoying toy that usually accompanies said meal, and I always think the burgers never actually look or taste like they do in the menu photos, and I always feel hungry an hour after consumption, but when I was pregnant, their fries and cola were the only things that stayed down, during my dreadful bouts of HEG,  but the children LOVE a trip to either McDonald's or Burger King, so they were delighted, and actually, it was pretty yummy, and it solved the dinner crisis. I usually get quite stressed by stuff like having to make sudden changes to our plans, or having to find alternative solutions at short notice, but as we sat, eating fries, and burgers, in a very busy service station, with rain POURING down outside, and no idea when the road would clear and what time we would get home, I was actually quite relaxed, we laughed a lot, the children's toy that came with meal proved quite handy, keeping them amused while we worked out traffic and routes, and there were quite a few families around us, doing pretty much the same thing, at 7pm at night. We knew we would get home eventually, and in reality, life wasn't that bad!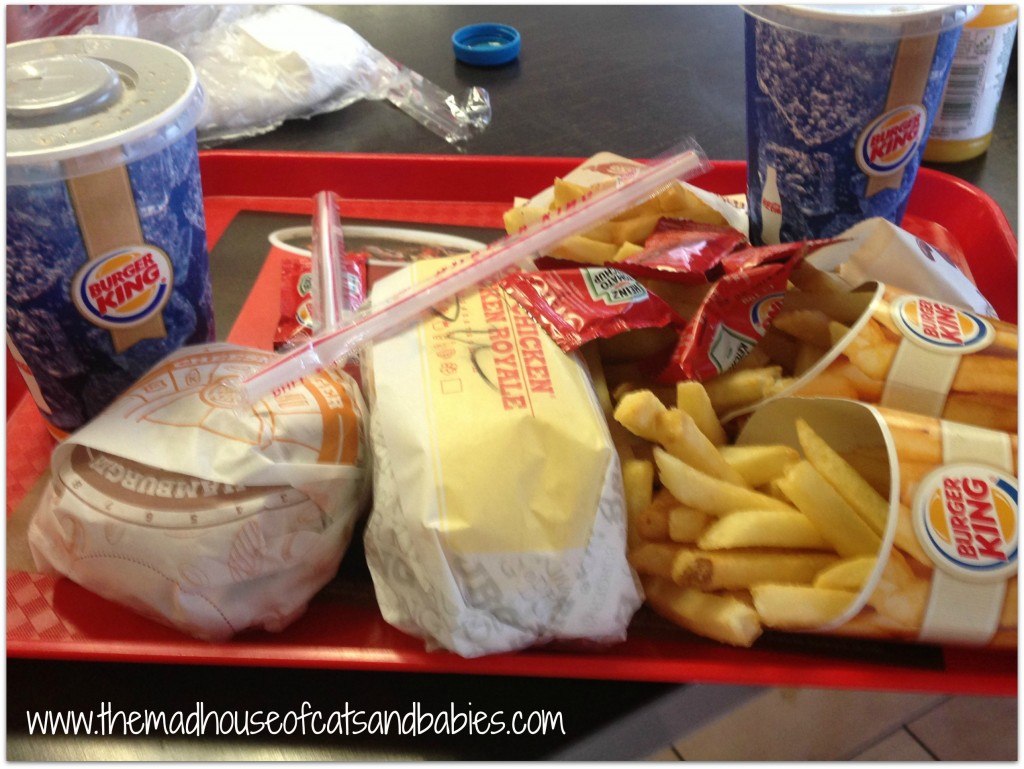 (I have to say, the burgers and chips were FAR nicer than McDonald's and actually I really enjoyed mine!)
So, there you go, a somewhat random, fast food fuelled start to the week and my maybe not so magic, but it was a moment, blog post.
Don't forget to click on the linky to read more posts and join in too! Have a good week!
PS We got home safely, and both children were tucked up in bed, asleep, with the adults not far behind them, by 930pm!