It's been an interesting few days, with Grandma and Grandpa departing. Small Boy doesn't understand that they have gone far away, and keeps asking when they will be coming back, and then gets all sad when I tell him they have gone back to South Africa, which hurts my heart. He was just starting to get to know them, and relate to them, and it's hard when relationships have to be long distance. Big Girl understands things better, and is planning to e-mail them, and is learning how to use Skype (supervised, of course)  I am very grateful my own father is currently living close to us, and can be around and we hopefully will be able to take the children to South Africa one day, in the meantime, we will do a lot of Skyping, sending photos, and exchanging e-mails and they will hopefully be back for a visit in 2015. I know many families who deal with this burden, of Grandparents, and family being far away. I spent a lot of my life living away from my family, and it's not an easy thing.
On  a slightly more cheerful note. I came across the idea of doing an Autumn Bucket list, from a blogger I follow on Instagram. I have never written a bucket list before, and as it is now officially Autumn, I thought I might give it try. A few things I would like to do, for myself and with the children, this Autumn. Now that September is here, I am no longer in denial that summer is almost over. Autumn is in fact my favourite season, so I am looking forward to it.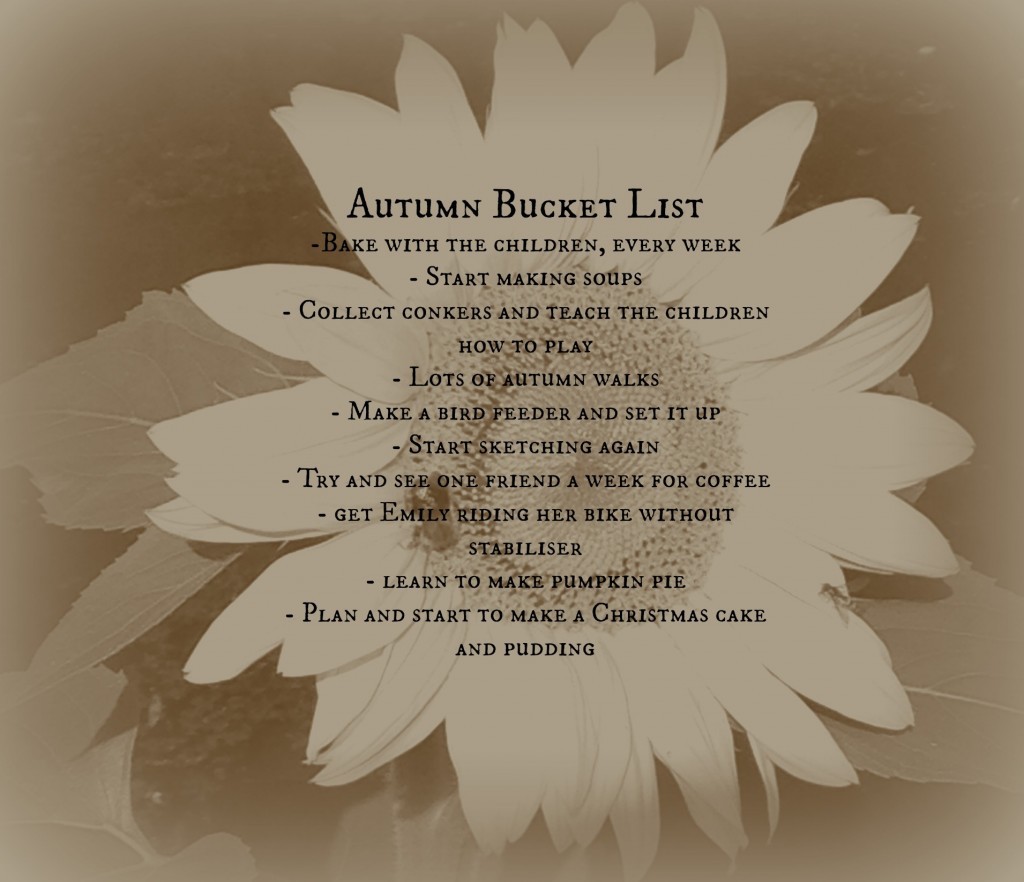 (if you would like to join in, Spotted Rose has blogged about it, and you can also find her on Instagram – #autumnbucketlist)
I have been feeling sorry for myself, and wrote out a whole lot of rambling pity party paragraphs, but then decided to pull myself towards myself. Big Girl starts school this week, Small Boy meets his nursery teachers, they're coming for a home visit on Friday – cue mad panicked cleaning and tidying of the whole house, even thought they aren't likely to do that much exploring, and I start back at work properly. I am officially joining the ranks of paid employment. What I have been doing, was voluntary, but has now become pretty much a job, taking up a fair amount of my time, and although I love it, and would do it unpaid, gladly, I will admit to feeling a certain amount of pride in being back in the paid job market again. It feels good to be contributing to the household, and I am looking forward to taking LSH out for a meal at the end of this month, to celebrate.
Have a lovely week, don't forget to link up or read the other Magic Moment posts, from The Oliver's Mad House