Another week of photos, from Instagram….
So this week, Big Girl went back to school, into Year 2. I must admit, I am struggling a bit with the whole idea that she is almost 7, and in her first SATS year, and seems to be growing up so fast. Small Boy starts nursery, next week, too. I feel like my babies are getting so big. Not babies any more, although as we would like to add a 3rd to the mix, we won't be changing the blog name, soon, just in case! 😉
So we had one last fling at Kew Gardens with Granddad, bought a violin, and got all ready to go back to school and get back into the school/work routine. We also met up with some of my family, aunts and uncles from close by and not so close by and my brother and very cute nephew (who is 2 days older than Small Boy) and the cousins had fun playing and chasing each other round.
I applied for Small Boy's reception place for school next year. I did cry as I filled in the online form.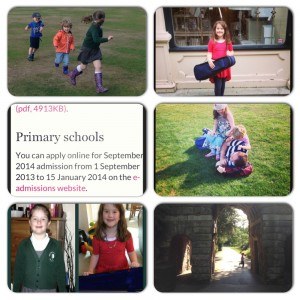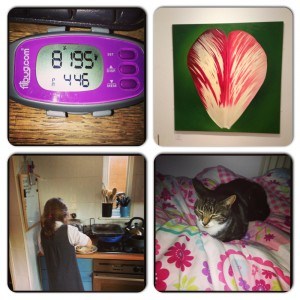 When we were at Kew, we visited the Marianne North Gallery, which is a part of Kew I have never been in, full of beautiful artwork and drawings of plants and other things. I was very taken by this tulip painting, and if it had been a teeny bit smaller might have tried to slip it in my bag… I also discovered that on my working days, in the week, I walk more than 4 miles, using the FitBug, which I am finding really useful for keeping track of how much exercise I do. Big Girl loves helping me make supper, and is very good at tasks I give her, while I am doing other things to get food ready, and of course, the obligatory cat photo!
What we're watching: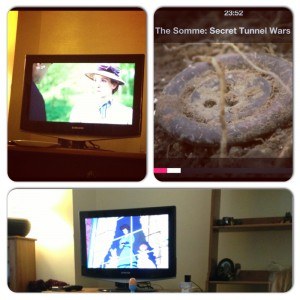 We borrowed the Disney DVD's Cinderalla and The Little Mermaid this week and enjoyed watching them, although you can definitely see how the quality of filmwork and digital film has changed. Big Girl said to me "it looks old", but we still loved them, sometimes the older Disney movies are the best, and I am still humming "Under the Sea" three days later…
I am also having a Downton Abbey catch up fest, this week, in preparation for the new series coming out. I am just hoping they are a bit less dramamtic and gentler on us this time round, I won't say anthing lest I spoil it for anyone who hasn't seen the last series and Christmas special but I really hope it's less gloomy.
I have also been watching some documenataries on WW1. I am fascinated by history, particualry WW1 history and the trench warfare, although the horror, loss and destruction of it all does make me feel very sad and sombre.
What I'm eating: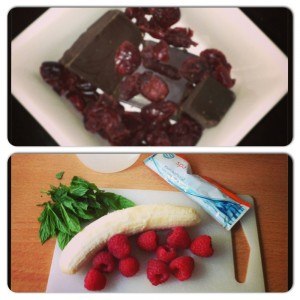 Smoothies, with all kinds of ingredients. This one was based on one I have had at a Giraffe restaurant, called "Giddy Giraffe", with fruit, and mint. It was yummy and the kids demanded second helpings.
I had a mild chocolate craving (blame it on hormones, ahem) and instead of wading my way through a huge pack of chocolate, I broke a square of dark chocolate and combined it with dried cranberries, which was really yummy and satisfied the cravings and was slightly better for me, I hope.
So, that's our week. There's a lovely link up at Make Do and Push, if you wold like to join up or see more photos from other bloggers and their weeks.
Enjoy your weekend. I am off to rearrange the children's rooms, so they can share a room. Wish me luck!