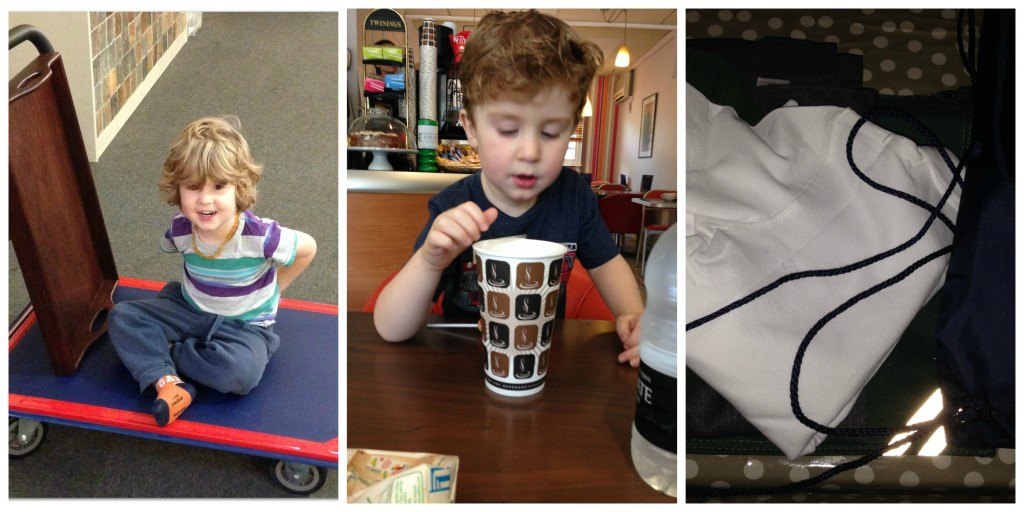 Is nearly 3 and a half. We have been through a lot together, and I am really, really struggling to let go, and to relax at the idea of him being at nursery school. I don't know why I am so emotional about it. He is SO ready, and SO excited, and will have such a wonderful time. The teachers are so nice, the school is lovely, his big sister is around to keep an eye on him, and after all it is only nursery, for three hours a day, as people keep reminding me. I have cried more than once, in the past week or two, getting his kit together, meeting the new teachers, and when he got his hair cut today, in preparation for starting tomorrow, I cried again (the poor barber was really worried, that he had chopped all his beautiful curls off and I was upset about that, I had to explain about the starting nursery thing, and he was very sweet, and told me "my wife, she is the same, with my son", which made me feel slightly better) and I am sure I will cry again tomorrow when I drop him off.
I think, because he and I have been together, so much, and although I have been working, unlike with Big Girl, he hasn't spent as much time in childcare, as she did when I returned to nursing,  and hasn't been away from me as much,  and we have such a strong bond, and he still seems like my baby, and is a really "Mummy's boy" and he has needed so much, with his sleep and anxiety issues, caused by the chronic ear infections, now almost a distant memory (we have just survived our first post grommet serious cold bug, with no ear infection in sight, another milestone) But now  he is such a happy, confident little soul now, and is ready to spend time in nursery. He is my little buddy, my shadow and sidekick, and yesterday was his last day helping me get ready for work, he normally comes with me to set up on a Monday, but from now on, he will be at nursery, doing all the fun  things with his mate Max and hopefully making more new friends. He doesn't "need" me so much, and I don't have any worries about him coping with being away from me, and I won't pester his nursery teacher with my advice on how to handle him, as he learns how to cope with a new environment, lots of noise and children around him (something he couldn't manage with his ear issues) because she knows what she is doing, and will look after him.
So, I am learning to let go, and to help him start the next steps. After all, it is only three hours a day, and he will thrive and grow, and it's a whole new adventure, for him, and six months ago, in the midst of sleep deprivation, and dealing with lots of issues with him, I didn't think this day would ever be possible, or that he would ever cope with being at nursery.
Tomorrow is a big day, another milestone, and here's to many more.
Sharing on Magic Moments, at The Oliver's Mad House.