It's a mixed bundle this week, a conglomeration of germs, emotions and milestones…
This little boy started Nursery school, this week. He looks so small, when he trots off, with his book bag and uniform, for his 3 hour stint. He is loving it, and settling in. I have cried a few tears this week, it's been pretty emotional.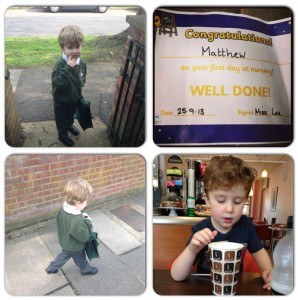 We also also, sadly came down with our first autumn, back to school bug. A sort of fluey, cold thing. I have felt pretty grotty all week, Big Girl had it last weekend, and Small Boy got it, this week too, with me, and ended up with a mild chest infection, requiring a trip to the doctors and a batch of antibiotics to shift it. I am not normally gung ho about antibiotics, but the GP said she had seen a number of very sick children, some with pneumonia, already, so we decided that antibiotics were the best option.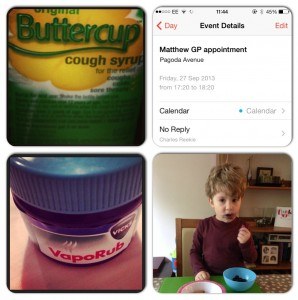 We also moved both children into one bedroom. So far, so good, in terms of sleeping and sharing a space, although getting everything tidy and in order is taking a bit longer and I am wondering if the upstairs of our house will ever be tidy again….?
 What we're eating: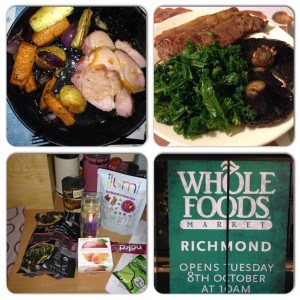 I was very thankful to find that various supermarkets were doing their meal deals this week, as cooking, whilst feeling like death warmed over, and coming home from busy days at work, and various after school activities was the last thing I wanted to do. We also have some lovely gluten and dairy free products to review, and we are VERY excited that Whole Foods is coming to Richmond. I am a bit of a hippy, and although it's expensive, I will be able to get some of the things we use, there, instead of having to online shop, so it will make life easier for me.
What we're watching: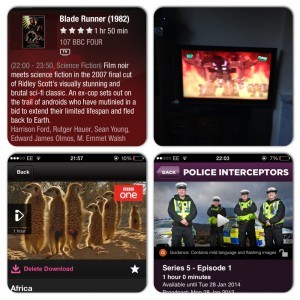 I tried to watch Blade Runner the other night, and found it just as hard to "get into" as I did when we were made to watch it at school, I watched about half an hour, trying to persuade myself that it was classic, cult, and must be watched, then gave up. I love Harrison Ford in most things, just not this. I do have however, a secret confession: I love real life police drama tv, I got hooked when I was up nursing tiny newborn babies, late at night, when the tv was dire, and nothing was on, I don't know why, because it is hardly BAFTA nominee stuff, but police chases, arresting thugs and criminals, catching drug dealers and fraudsters, I love it.
We have also been watching the Africa series, on BBC, which my kids have loved. As they are part South African, Africa is in their blood, and whilst we can't take them there for a while yet (it's prohibitively expensive to fly and stay) we do like to watch stuff on tv and read about things, especially wildlife. One day I will take them to see Meercats and elephants in the wild.
I was very amused to find that one of the cable channels runs re runs of the original Transformers cartoons, that we watched (My brother and I, in Thailand) when I was about 8 or 9 and he was 4 ish. I feel old….
Oh, and I gave up Candy Crush!
Linked up with Make Do and Push, for her weekly photo linky. Click to find more. Have a great weekend.