Ok, so I am about to do something that I never, ever normally do, and that fills me with dread, at the prospect.
I am going to post a photo of myself, with no make up on, my hair in it's usual crazy state, and looking VERY tired.
If you are of a sensitive disposition, feel free to look away, or scroll passed fast. I have made it small, so it isn't as scary.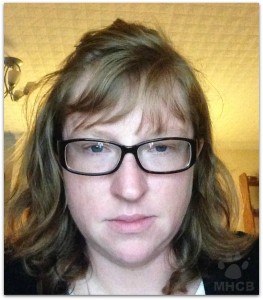 So, if you haven't run screaming, this is me.
I look tired, I know, and pale. I hate wearing make up, because I can't find any that my skin really likes, and I HATE my hair. I cannot decide whether to grow it longer, or chop it all off. It's not curly, but it's not straight, and it's thick, tends to frizz, and is a pain to do anything too. I am not prepared to get up hours before my kids to straighten or do stuff to it, so it gets pulled back into a tight pony tail or bun, and left to get on with itself.
I get hot, running around at work, and make up doesn't stay on. I hate the feeling of most things on my skin, but age and tiredness are starting to dictate that I may need to think about using a proper skin care regime, and actually making an effort with make up etc. I work with the public, many of whom have their own children and busy lives and manage to look more presentable than me.
I had a lovely hairdresser, after much searching to find someone who I felt comfortable doing my hair, and who didn't try to persuade me to do weird things with it, colour or layer wise. Unfortunately for me (and luckily for him) he moved to Thailand, and it's a tad expensive for me to go there just for a quick cut and blow dry. So, I need to find somewhere else to take on the task of dealing with my mop.
I have also done the "visit the make up counter" thing, and whilst that is fine, you end up spending a massive amount of money, and coming away feeling over made up. I don't have time to do long make up routines, or faff with eye shadows and liner. I just want simple, but slightly yummier Mummy looking.
I think with my Get Fit Mummy campaign, I have started to realise I need to make more effort, and try and look nice. To be honest, sleep deprivation, and weight gained have combined to knock my confidence, and I have become lazy and get out of bed, do the basics to my skin and hair, then get on with the day, and try not to look in any mirrors.
So, I guess I need to make more effort, and venture out and find a hairdresser, and see if I can find some make up and beauty products that will agree with my skin, wont' break the bank or make me look like a z list celebrity who went mad at the Rimmel counter.
So, if you know of a good make up artist, or a hairdresser who won't run screaming when they try to tackle my slightly gingery, a bit frizzy, and not exactly gorgeous locks, please send them my way….
Maybe I should call Trinny and Susannah?