So, I have blogged before, that I don't drive. Whilst there is a possibility that I may finally admit I need to pass my test and get behind four wheels, possibly sometime in the next year, in the meantime I am stuck for transport. I am fed up of waiting endlessly for buses, and paying for public transport, and I need a quick way of getting myself to work, once I have dropped Small Boy at his Lovely Childminders in the week.
I could get a bike, with a seat, but to be honest, I really don't feel confident, or comfortable with cycling on the roads, with Small Boy (and at nearly 37lb he is not so small) in tow, I worry about accidents and when the weather is bad in the winter.
So, meet my new wheels…. or at least something like these.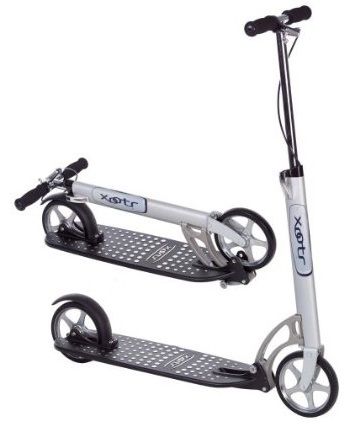 I know, ridiculous, to think of a grown adult woman, scooting along, but for the moment, it's a cheap, quick way to get me from A to B, and it folds up and is light weight. So if you live near me, you may want to watch out in the next few weeks, once it's arrived and I start test driving it! I am quite excited, and just need to fully convince LSH that it's a good idea, before I hit "purchase".
Now, do I need a helmet? I like this one?
Post Comment Love