This week has been fairly awful, to be honest. Small Boy caught the horrible cold lurgy that has been doing the rounds, and by Friday was not a well concoctation of atoms, as I have read quoted somewhere, and didn't really start to recover until Sunday. LSH's work pretty much took over our weekend, ruined our date night, and has exhausted him with late nights and stress, so he has now fallen prey to the nasty bug and is loaded up with medicines, after a trip to the doctor today. I was pleased that my diagnosis, and what I assumed would be prescribed were correct and  he will hopefully be on the mend in a day or two, but it hasn't been fun, trying to juggle normal life, and also nurse a sick Daddy.
So, there aren't many pictures, or cheery things to say, but here goes….
I have stocked up on both medical and traditional ingredients for treating our lugry this week. Tom Yum noodle soup was requested by the patient, so I obliged, although I didn't make it.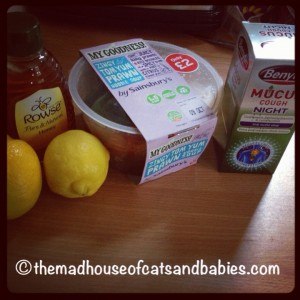 I must admit, when LSH's temperature hit almost 39 at one point, and he was coughing away, and couldn't catch his breath, I did wonder if I would be making some calls to see if we could get him to A&E, but sometimes old-fashioned remedies help and I dosed him up with some bronchial cough mixture I got from the health food shop, that I normally use for me (I can't use medications with anti histamines or cough suppressant in them, they make me hyper) and sat him in the bathroom, filled with steam and he started to feel better. I hate the germs that seem to breed at this time of year.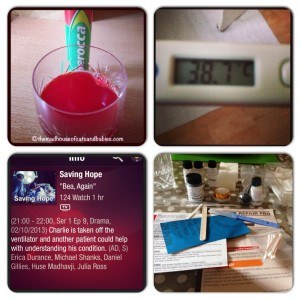 I have also had a leather repair kit, arrive, that looks more like a small selection of items to create a nuclear bomb, and reminds me of my chemistry sets, that I had in childhood. I think I will be attempting to repair the cat scratches on the sofa on a day when the children aren't around, some of the kit looks pretty lethal.
I have found a new medical drama to watch. Saving Hope. It's not as good as ER or Grey's Anatomy, but it is American, and it's got a good storyline, so it is keeping me happy when I need my medical fix!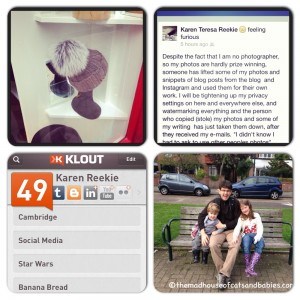 I also happened to notice that my Klout score this week is based on my knowledge of banana bread, Star Wars and Cambridge. I am highly amused by this. I found this hat, in a posh hat shop in Richmond, and really like it, but am too scared to go and ask it's price! I also, unfortunately had someone copy some of my work and photos, so had to send a few stroppy  mails, to get that sorted out. Stressful and irritating.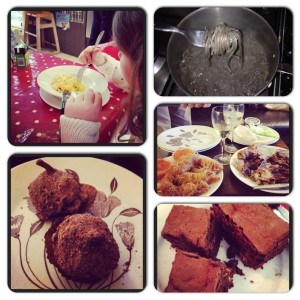 We had a bit of a food filled weekend, with yummy Macaroni and Cheese and Gluten free chocolate brownies from one of our favourite haunts in Richmond, and then LSH and I attempted to have a date night at home (we had planned to go out, but Small Boy was too sick to leave with a babysitter) then his work crashed the party. The marzipan stuff, chocolate coated figs were divine, though, from William Curley's shop in Richmond and the Chinese takeaway we ordered was good too.
So, that's our week. Hopefully next week will be less germ filled.
Don't forget to link up with Make Do and Push, for more lovely photos from other blogs.