Last night, Big Girl was enrolled in a local Brownie pack, that I volunteer at. I have been helping there, with the exception of a break when I had each of the children for nearly 8 years. She has loved coming with me, and is very excited about going to her first camp in January too (I am going as well, it's going to be fun!)
I also was a Brownie, I joined a local pack, when I was 7, when we lived in the UK, and remember having a lot of fun. When we moved to Thailand, I joined their Guiding equivalent, Blue Birds, still part of the Girl Guide movement, but for girls in Thailand, so it was different but the same. We had to iron our own uniforms, and did a lot of practical things, as well as fun stuff, and I remember my time with them very fondly, and still have the little china Blue Bird that I got when I "flew up" to briefly join the senior guides section, before I left to go to boarding school.
I have really enjoyed helping with our Brownie pack, meeting lots of families, and working with the girls as they come through, watching them grow up, and move onto other things when they leave. I think it's a great group, and they learn a lot of practical skills, and I know our pack does some really fun activities too. Some of the older siblings of the current Brownies remember big girl as a tiny baby, so it's a bit of a community. It's been good for Big Girl to meet a new group of girls her own age and older, that she doesn't go to school with, and has boosted her confidence as well.
I don't have any pictures of me as a Brownie in the UK, but I found this one, of me with my mother, in my BlueBird uniform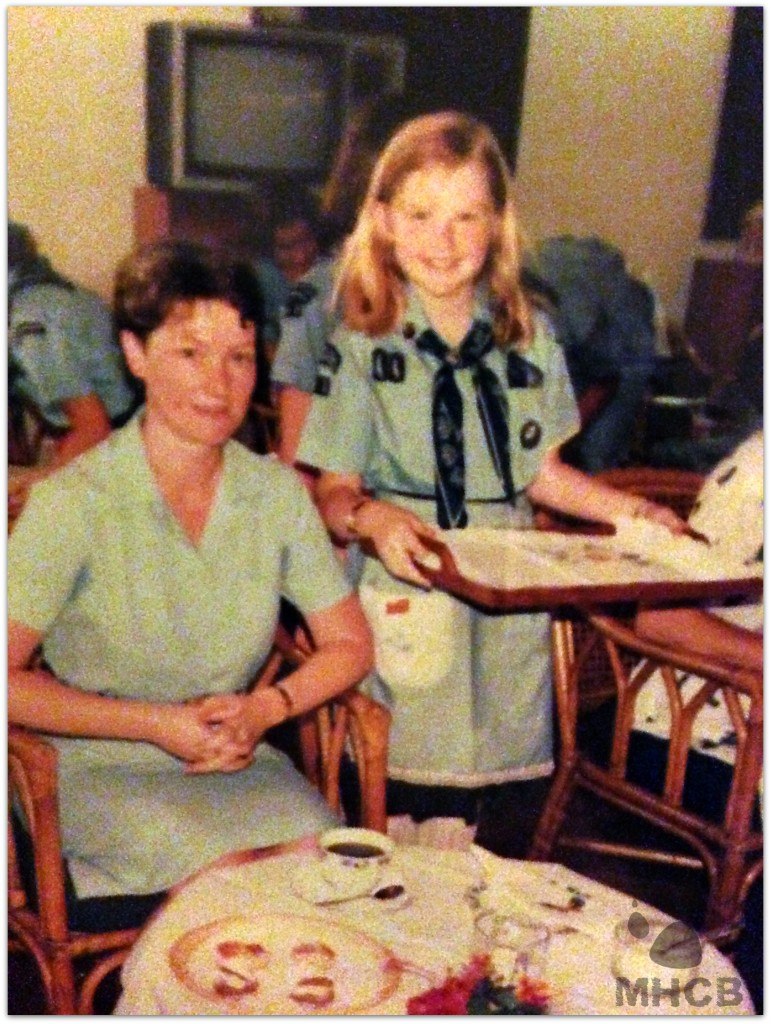 (The photo is a bit blurry, and old, sorry)
 Of course, we proudly watched (and yes, I did get a bit teary)  as she said her own Promise last night, and got her badge, and got a few photos.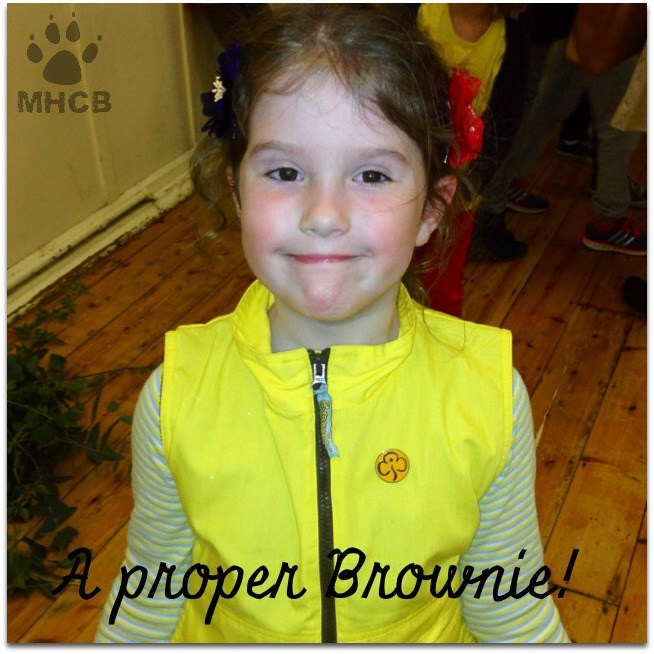 The uniform has changed, some of the wording of the Promise has changed, to reflect the times we live in, but it was definitely a proud moment.
Small Boy, of course now wants to join, and is very upset that he can't come to Brownies  with us. I will have to enrol him in a local Rainbows or Beavers when he is old enough!
Sharing this with The Oliver's Mad House for Magic Moments. Check the link by clicking on the button below…