I am oddly excited about Christmas this year, well before I usually am. I am not sure why, and LSH keeps feeling my head and asking if I am OK, because I am normally very bah humbuggy until we get the tree up and decorated during the first week of December. I may even have started Christmas shopping, which is also unheard of for me!
This week's photos are a bit of a mix, it's been a bit of a crazy week (I don't think we ever have the non crazy kind, to be honest)
We were lucky enough to be invited to the Tracks4Thomas event at Hamley's in London, last weekend, which great fun, the children LOVED it, and it was also good to take part in spreading the message.
We also did some Christmas crafting, and made cards, thanks to Baker Ross, and the children and I enjoyed being creative for a blog review, you can see how proud Small Boy was of his creations!
I may have lapsed slightly from #GetFitMummy this week once and caved and had a cake, or two, but as I haven't had a Fondant Fancy for years, I excused myself, and there was no sugar in my tea, honest. We also love gluten free, American style pancakes, in our house, on Saturday mornings after swimming lessons, when everyone is STARVING, and we of course have maple syrup, a throw  back from all the time I spent in the USA. They do pancakes far better, I think.
Small Boy now has homework (eeek) although it is very easy, drawing pictures or things  we can help him with.
I am very excited, lots of parcels arriving this week. I am trying out a Graze box, particularly their gluten free range, and also managed to finally get a proper Swedish Angel Chime set. My mother had one, when I was a child, and I have hunted high and low to find one, my friend Nicola tracked one down for me. I can't wait until it arrives!
I am still stalking and getting rid of snails, I think it is becoming a bit of an obsession, the killer snails aren't working hard enough for my liking.
That dress is Big Girl's first dress, from when she was 3 months old. I am going to get it mounted and framed, to keep it for her, as a memory for me and her. I cannot believe she was so tiny, once that she could wear it. She's now into choosing her own clothes and bemoaning the dire state of her wardrobe "I have NOTHING to wear" when all I can see are piles of clothes. Teenage years are going to be such fun! 🙂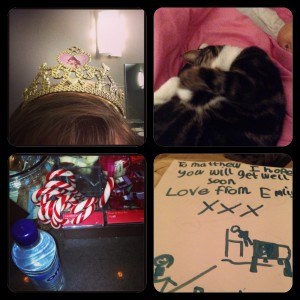 The weekly cat shot, Jasper is coping with the colder weather by sleeping as much as possible, in the warmest spots he can find.
Yes, I wore a tiara, and I did buy and eat candy canes, (more Christmas spirit, what is wrong with me?) and Small Boy has a  lurgy, which we are hoping will go soon, but he is enjoying his big sister fussing over him and loving him, and there is no squabbling, for a change.
That's our week. We are on Instagram. I have made my profile private, but you can ask to follow us. (more on that in a blog post this week)
Make Do and Push is hosting the weekly link up. Click on the button for more blog photos from this week.