I was contacted a little while ago and asked if I would like to review some bath products made by Crazy for Kids. If you have read my post on how much I loathe bath time, with the kids, and let LSH take the task, if I can, you will know that normally I avoid bathroom antics and fun and try and whiz through the job and get it over with as fast as I can. LSH however, has been working some late hours recently, so often can't be home for bath time, and it falls to me to be the responsible adult to produce clean, shiny, happy children so I thought anything that would liven up and make bath time more fun, for the children, and me, would be a good idea.
We were sent 3 bottles of different products. A bottle of sparkly bath foam, which instantly won the approval of Big Girl, to whom all things that sparkle are a hit, and some colour changing bubble bath, which Small Boy was interested in, and some foaming soap.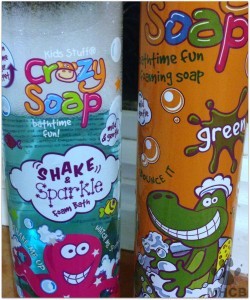 Crazy soap say:
"Developed as a response to a parent's battle to achieve a stress free bath time, Kids Stuff Crazy Soap has been delivering bath time fun for over 20 years!
Since then, new ideas have been added to our range of sensory and tactile bathtime products, injecting creativity and fun to get your kid's creative juices flowing, taking bathing beyond a simple wash and grooming regime.
We are proud that all of our Kids Stuff Crazy products are:
Child friendly, with formulations developed to be fun whilst gently cleansing delicate skin.
Sensory and tactile, making bath-time special. Even grown-ups can join in the fun!
Lovingly Made in England"
So their products appealed from the start. I am always a little cautious, with bath and skin care products, because Big Girl has mild eczema, and quite sensitive skin, but had no issues with any of the products we tried.
We loved the sparkly bath foam, it smells nice, and does make the bath all glittery, but doesn't leave any on your skin, and rinsed off the bath easily too. It was a winner with both children and I quite liked it too.
Because we have a very old, porcelain bath, and it does warn to be careful, on the label on the bottle of the colour changing bath foam, we actually didn't use the it in our bath, but instead, I found that it was the perfect way to keep a certain Small Boy amused for a good while, by pouring some into the sink, letting him enjoy the colour change and then having a splash away with some toys. Wet, messy play, while I cleaned the bathroom and tidied. I am sure in a not so ancient bath, it would be great fun, and we did like it.
Our favourite however, was the crazy foam. Small Boy and I are slightly challenged by textures but both of us love playing with foam and soap bubbles, and this stuff is amazing. You squirt out a blob, shape it into whatever you like and it stays firm, and what's more, it bounces, so the children and I were playing catch with balls of foam, which was great fun. It certainly made bath time more interesting and entertaining, and I'm afraid the can of foam didn't last very long at all, because it was so popular.

So, the young and adult residents of the Mad House of Cats and Babies give a big thumbs up to Crazy Soap and bath products. We really liked them, they were kind to our skin, and most of all they made bath time fun. We loved the little finger puppets that came on the lids too, added a little extra to the fun!
We even have two bottles of Crazy Soap Products to give away. One person, chosen by Rafflecopter will get a bottle of Colour Changing Bubble Bath, and Shake and Sparkle Foam Bath, with finger puppets, to enjoy and liven up bath time at home.
You can enter below, and comment on how you make bath time more manageable and keep your sanity, if you are like me, and it is not your favourite parenting job!
*this was a review post. All thoughts and opinions are our own. We were not paid to write this post, but were sent some Crazy Stuff for Kids products to try*