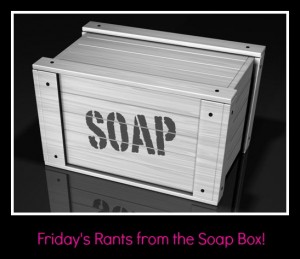 Welcome to my Friday's Rants from the Soap Box in my Living Room. A small space in the week where I can have a chunter about things that have made me twitch with annoyance or made me question if the world has gone mad or not….
I also linked up with MummyBarrow for her Ranty Friday. You can find her blog and link up if you'd like to join in. A good rant can be therapeutic. Click on the link at the end to join in!
So I know my blog is not a big one, it doesn't generate much income and I don't have thousands of readers every week – This is not an issue for me, I love blogging, I mainly blog as a journal, or space to write and because maybe, just maybe some of what I have to say might help or support someone, or make someone feel less alone in this mad parenting malarkey! I know I am never going to make millions or be a famous blogger, and that's fine with me, as I also know how much hard work and effort that requires, and I am not able or talented enough. This is not a "praise me" post, I don't want to be told how wonderful I am, just stating what I know.
However, this is MY blog. It's my little space on the internet, and whilst it may not be trendy or glamorous, it's mine. I am quite proud of it, I like the design (which was put together for me, and is what I wanted) and I don't want to add lots of adverts or stuff that will clutter it up, and I am also picky about what goes on the blog.
I have recently been told that I need to stop Ranting on Ranty Friday (or Friday's Rants from the Soap box) and that I need to be more positive, and find good things to talk about. I was a bit peeved, because a) it's my blog (I think I have said that, already) and b) Friday is my one day where I do have a rant and a chunter, and link up with other bloggers, and the rest of the time I try to stay positive and to make the blog a place where people will want to come and visit. If you don't want to hear my rant on a Friday, please feel free not to click on the link for that day!
I was also recently contacted by  a company who said they would like to work with me to put some adverts of my choice, on the blog, and that they wanted to help me monetise it. I would love to earn a few shekels from what I do here, so I thought I would see what they had to offer. The mail I got back, basically told me that I would have to re do my blog format, change the look, and style, and a lot of the content, and that the adverts would have to take up a lot of space, and would not always be stuff that I felt comfortable with. Whilst I was flattered to be asked to join a company that puts adverts on my blog, I don't want to change my blog to change to please someone for commercial reasons.
The blogging world is a funny place, full of different opinions, likes and dislikes. What I like when I visit a blog, may not appeal to someone else, but that's pretty much like everything in life. I can't help feel a little resentful, that outsiders think I should change things, to please them. I basically want to say, BOG OFF, it's MY BLOG!
That's my rant for today, sorry it's not very exciting. I am full of cold, again, (what is with this winter, it's been awful, I can't remember when we were all last healthy and not snotty!)
Don't forget to check out Mummy Barrow's Ranty Friday….