Our week in photo's, mostly from Instagram, and we link up with Make Do and Push, for her lovely weekly linky.
This week, we have had some bad bits and some good bits, and we were quite glad to get to the weekend.
Unfortunately, Big Girl was poorly again, and not only did she have to miss school, but missed out on doing her part as a narrator in the school Christmas play. She was so ill, she wasn't atually that upset, although I felt a bit sad for her, as she had worked hard learning her lines. She has some issues with her tonsils, I forsee another visit to see an Ear, Nose and Throat surgeon in our future, some time next year. Fortunately, she still has her Christmas Carol concert next week, where she is playing the violin for the firtt time in front of an audeince, with the other children in her violin class, which we are looking forward to seeing and hearing. I can now also play A, G, and E and a fairly non ear shattering version of Twinkle Star, thanks to my taking part in her lessons and helping her practice.
Small Boy took part in his nursery school Christmas sing song, on the stage, in front of all the nursery parents, and I did cry, and am terribly proud of him. He has come a long way, in terms of how he copes with things, and he was very pleased with himself, and we really enjoyed the songs. The teachers all deserve a medal for getting 20 children aged 3-4 on a stage, all in one place, and singing songs and doing actions and it was so cute to watch.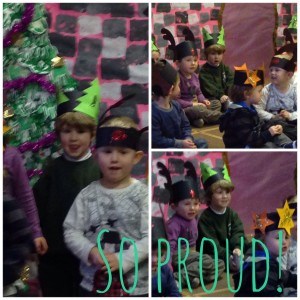 The resto f the week has been  a hodge podge of me finishing my work for the holidays, finishing putting up the tree (more on that tomorrow) and making our first Gingerbread Christmas cottage, complete with lots of sweets and icing…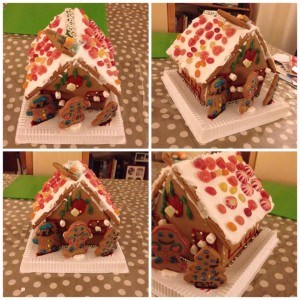 I have always wanted to make one, and we have decided it will be a family tradition.
We also discovered that Small Boy LOVES Marmite. He's the only member of the house of Mad Cats and Babies that does. I can eat it when I am pregnant, in fact it's one of the only things I can tolerate when I am struggling with Hyper Emesis Gravidarum, so maybe he absorbed the love of it from when I was pregnant with him.
So that's our week, don't forget to click on the linky…