I posted earlier in the month, about letting go of my Bah Humbug, and getting into the spirit and joy of Christmas, you can read it here, if you would like to. I have noticed, that with my new attitude towards all things festive at this time of year, has brought about a difference in how I see things like decorating the Christmas tree and house, and Christmas activities we take part in or do. I am, as my husband terms it, politely, a bit of an A Type personality, (or, frankly, slightly OCD and impatient, over precise and possibly a bit annoying to be around) and I like things to be just so, look perfect and everything has a place and needs to be in its place. When I had children, I realised that this personality of mine was going to be a challenge, as we all know that most babies and children don't tend to fall into the lines that a Type A person would like, so over the years I have relaxed a lot. My issues with Christmas however, have meant that I get stressed around this time of year, and I want everything to be PERFECT. I want the tree to look amazing, with ornaments "just so" and I like a real tree. I want my decorations to look good, my house to be tidy and all ready for Christmas, and the menu and cooking, if I am catering, takes a lot of sweat and tears on my behalf. This year, however, things are tad different, or maybe even more than a tad… I let the children (and LSH, it was a whole family affair) loose with a huge mountain of sweets and icing sugar, to create an amazing, unique gingerbread house, they decorated and created their own Christmas Cards for their grandparents, and other family, and I let them decorate the Christmas Tree, which this year, is my Dad's, because he is away, and is a self-lighting one, and it has been suitably blinged up. I have made no effort to correct, or tweak anything, even though things don't look perfect, because really, it doesn't matter if they are perfect, nothing ever is, and the fact that my children did all these things, with love and fun, is far more important than baubles and lights all being aligned, or sweeties on a gingerbread roof being in precise rows. Our Christmas dinner menu is yet undecided, other than Big Girl wanting roast potatoes and Small Boy wanting Pizza and "lots of chocolate". I have told them I will cook whatever we want, and we may even still be in our pyjamas when we eat it!

So my tree is not perfect, in fact it would never grace the pages of an interior design magazine, and I am still finding traces of icing sugar in strange places in the house, but we're happy. We have a week off together, alone, as we have decided with my Dad being away, to just have our own little foursome for Christmas week, (our first time LSH and I have had a Christmas "alone" since we got married) and then see all our family for Big Girl's birthday afterwards and we are going to rest, relax, eat what and when we want and enjoy some family time, under our slightly squiff (I am not sure why, because it looked very straight at my Dad's last year, I think the combination of cats and children may have contributed)  but very flashy Christmas tree….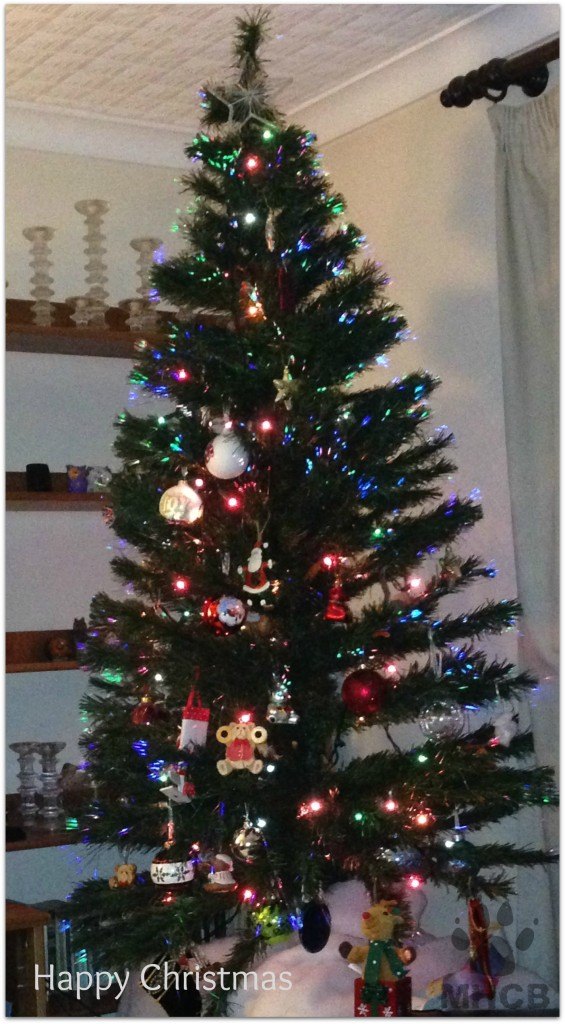 Linking to Magic Moments over at The Oliver's Mad House… It's the last one for this year, go and have a read!