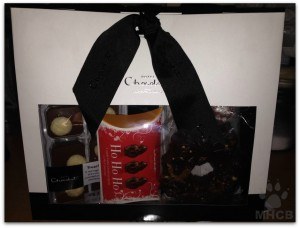 When I was contacted and asked if I would like to review a Christmas Goody Bag, from Hotel Chocolat, I didn't have to think about it very long. Erm, who wouldn't want to review some lovely chocolate, and just in time for Christmas.
The Goody bag arrived, and we decided to divide and conquer with it's contents. In the bag, which is very pretty, and looks lovely, ideal for a gift, or taking to a dinner party, as a little treat and contained a Small Cookie Wreath, a Box of Christmas Mess , a box of Treacle Tarts and a little box of Santa chocolates.
My children had their eye on the Santa Claus chocolates, or Ho Ho Ho Pillow packs and they were pretty much devoured before I could say "save them for Christmas". We each had one, and they are yummy. I don't normally allow Small Boy to have dairy based chocolates, but just this once he had a small treat. I have actually ordered some of these, for Christmas, and they do a plain 70% chocolate, non dairy version, perfect for those with intolerances or allergies to cows milk, which meant I could order some for him, for his Christmas stocking.
I decided that the Small Cookie Wreath was too good to share and kept that back, as a treat for me, to get me through Christmas shopping and keep me going. It is very rich, and actually, I didn't eat it all in one go. I found that a small chunk, with my coffee, went a long way, and it lasted me a couple of days, before it was all gone. It's a lovely mix of Florentine and crunchy cookies, not too sweet.  It's a nice little stocking filler gift, and ideal for teachers presents or that last minute "what to get, I don't know what they like" present when you are stuck for ideas. They also make a bigger one, which would be idea to share as a family, or with friends, after a meal, as an alternative to a pudding.
I had some friends, over for dinner last week, and decided that as well as dessert, I would serve the remainder of the chocolates, with coffee, and let them taste test them. Each set had 6 chocolates, perfect for our little group.
We tried both the Christmas Mess and Treacle Tart, and all of us voted overwhelmingly that we really loved the Treacle Tart. You can taste the molasses, which is one of the ingredient, , and the crunchy biscuit makes it more than just a chocolate. One of my friends had never had a treacle tart before, so she wasn't sure what she was meant to be tasting, we had to explain to her what was in a treacle tart, but she still enjoyed the chocolate very much. It's not too sweet, but moreish.  The Christmas Mess is very pretty looking, and sounds appealing, a white chocolate cup, with cranberry ganache, raspberry mousse and meringue sprinkles, but we all admitted to finding it a little over sweet, which was a little disappointing. We all agreed that white chocolate can be something you either really love, or don't particularly care for.
I think we would give the Goody Bag a 9/10, and it would be something I would buy as a gift. I would probably choose something other than the Christmas Mess, as part of it, but if you are buying for someone who loves white chocolate, and prefers a sweeter taste, then it would be perfect. We thoroughly enjoyed sampling and tasting.
If you want to order for Christmas, from Hotel Chocolat, I would recommend, them, they have a huge selection of treats, chocolates, and goodies for everyone, and also have a selection of vegan chocolates, which are of course ideal for those who cannot have milk chocolate. The last date for ordering is 6pm on the 23rd of December, in time for filling  stockings or picking up treats or gifts over Christmas.
*This was a review post. All thoughts and opinions are our own, we were sent a sample of products to review*