This year, we broke with all tradition, and rules. We normally see family, during the few days before or during Christmas, but with my Dad being away, this year, my brother and his family, and our family decided we would have our own day on Christmas Day and meet up to celebrate Big Girl's birthday a few days later. We basically decided to shut down, and have time out from everything, and just be the four (OK, well six, if you count the cats) of us and enjoy some much needed private family time. I know it raised a few eyebrows and there were probably some some parties that weren't entirely happy with our decision, but to be honest, we are very tired, we have had a very tough year, and we just wanted some time out, with no pressure to have to get dressed up, have a sparkling clean house, and serve meals or food at times expected by others, we wanted to be in our own home, just us.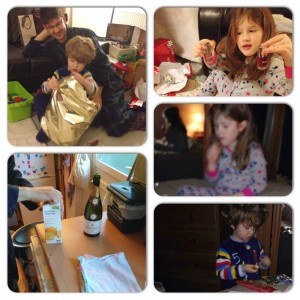 So, we did it. It was bliss. We woke up, opened presents, drank champagne and orange juice (a long tradition) and then we had a leisurely day, we ate a very relaxed lunch, and then watched Christmassy tv, played with our newly given to us Wii, and ate some more, fed our neighbours cat, (they were away) tried out the new remote control car and scooter given to the children, and then we ate some more, then went to bed, with very little stress or chaos, and I enjoyed cooking the meal for us, despite not having a working oven.
I have had lots of people say slightly enviously "oh, I wish we could do that, but….!" But what? Christmas can be a time when emotions run high, we miss family that cannot be with us (I did miss my Dad and brother, but we video called Dad, and I knew we would be seeing my brother and his family in a day or two) and we called the grandparents in South Africa too so we had contact with family and loved ones but to be honest, I think sometimes we set such high expectations of Christmas and teh time and money spent, and the effort we HAVE to make, and it can make it a stressful, and not so enjoyable time and I really wanted to do something different this year and so did LSH and the children! I think we felt a bit brave and out of things, making the decision to be alone, but actually, it was the right one. Next Christmas will also be very different, but I can't say more than that, now (no, we are not pregnant, so it's not that) until we know more ourselves and if our plans will come to pass.
So, we had a lovely Christmas, and New Year. (we ate more, watched more tv and were in bed early, for that too, it's not exactly wild or glamorous, but it was what we wanted and needed) I am looking forward to lots of blogging, new things for both the blog and in my daytime job, and other things happening to make a difference in our lives in 2014. I hope you all enjoyed your own Christmas and holiday time, and that 2014 is a good year for everyone.
Linking up with Magic Moments at the Oliver's Mad House….