That sounds a bit dramatic, but actually, it is. I have not been clothes shopping, properly (I don't think socks, underwear and pyjamas count) since I was pregnant with Small Boy, which is now almost 4 years ago. I have had some serious self confidence issues, and also with having gained some weight, have not wanted to venture into the less than flattering, cramped cubicles and changing rooms of most shops, to try on stuff, or have to buy stuff on-line, guess sizes then get miserable when stuff is too small or doesn't fit.
I have started loosing some weight, and my Frumpy Mummy uniform of black trousers and sweatshirts has become a bit too big, and even more frumpy looking, so I very timidly asked a friend who knows a thing or two about shopping, and is an expert on persuading charity shops and finding bargains if she would drag me round the shops, find me some suitable clothes, and she also suggested have a look in my neglected wardrobe and see if there was anything we could revamp, or update or keep using, or even ditch.
I must admit I was a bit nervous, because I wasn't sure if I would find anything that fitted me, and also, asking someone to look through your clothes, is definitely stretching my comfort zones. Thankfully, she was much kinder than Trinny or Susannah and we concluded that I actually had a fair amount of stuff I could and should wear, and made a list of what I needed, and she also very kindly gave me a shirt and a t shirt, that she thought would work for  me. Neither are what I would have chosen, myself, but actually look really good when I try them on!
So, we perused some local charity shops, and I was amazed at what you can find, when you have a good look, and are prepared to browse thoroughly and be brave and try on things you wouldn't normally buy. I am still loosing weight, and have a long way to my goals, but I need new clothes to tide me over, so charity shops are perfect, as I picked up lots of items, for much less cost wise, than if I was shopping for brand new things. I got some trousers I will be able to wear in a few weeks with a little more weight loss, and some nice tops and shirts, and she persuaded me to wear leggings, with some nice tunic tops that were part of my wardrobe. I even bought some new, non frumpy, non walking shoes….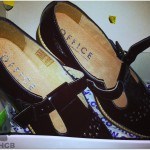 I actually enjoyed clothes shopping, which is rare for me, and came home feeling more confident, and that actually could dress nicely, despite not feeling entirely happy in my own skin, yet, with the weight loss and getting in shape still in progress. It was really eye opening to be told to try on clothes I wouldn't normally even consider, and to discover they actually look good (hello, leggings, who would have thought? I do actually have legs that aren't to be ashamed of!)
So hopefully less Frumpy Mummy, and a bit more confident, and not dread opening the wardrobe and despairing of what to wear Mummy, and a great big thank you to my friend, who did me such a huge favour and blessed me with her time and patience and fashion skills. Now, I need to go break in those lovely, shiny shoes……