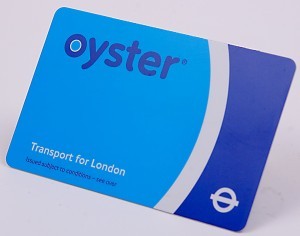 So, earlier this week, I found an Oyster card. (A plastic travel card you can upload your travel ticket or pay as you go for buses/London Underground) I know how annoying and inconvenient it is, to loose these things, so I trotted off to my local train station, where Oyster cards are USED EVERYDAY, to hand it in, thinking at least it might get back to it's owner, or be cancelled so it couldn't be used fraudulently. I go to the counter at Richmond Station, which is the end point for the District Line (underground) and I am told "we don't deal with Oyster, at all here, you can't hand that in here, you have to go to an underground station". Um, apparently Richmond is not considered an underground station, and South West Trains, who run the other service provided have taken it over, and in their wisdom, have decdied that no Oyster transactions or business can be carried out there. So, I can, at my own expense, travel on the "underground" train, that leaves from Richmond, and go to the next station, to hand the lost card in, or I can post it, but it has to be registered post, apparently. So, to do a good turn, and hand in a lost card, one way or the other, it will cost me money, and take me out of my way??
Madness, right? But it gets worse…
I want to purchase a monthly travel pass. I can do this easily online, and it all seems very simple, until I reach the point where I have to say where I want to activate my card… Guess what? I can't do it at my local station, and if I want to register my card, so if it is stolen or lost, I can cancel it, and then get a new one with the same ticket on it, I have to fill out a form, and take it to a station that process it, but NOT my LOCAL station. I have to get on a tube and travel, to register my card, or post the form!
So, South West trains, and Transport for London, in their planning, and changing the system, seem to think this has made my life easier (and other people's I imagine) and apparently, the whole claim that using an Oyster card is cheaper, and convenient, seems to have slipped up somewhere because it is neither convenient, or easy for me to buy, or top up or activate a travel pass on mine. I sent a couple of ranty tweets to both TFL who of course fobbed off all the responsibility onto South West trains, who didn't reply to my tweets asking for logical explanations to why this system is so confusing and chaotic. Why, with Richmond being a major hub of travel, with London Underground starting and ending there, and also overland trains accross Lonond and South West trains, to Waterloo and out to Reading and beyond, can we not do any business related to Oyster, other than topping up a card at the machines? Surely it makes sense for the many commuters and travellers to be able to sort out, purchase, update their Oyster cards at their local station (Richmond)? Who knows what was going through the heads of the people who came up with the plan, but I bet they don't have to travel from where I live every day!
With that rant off my chest, I direct you to the lovely blog of Mummy Barrow, who hosts Ranty Friday. Go see what is getting the goat of other bloggers this week….