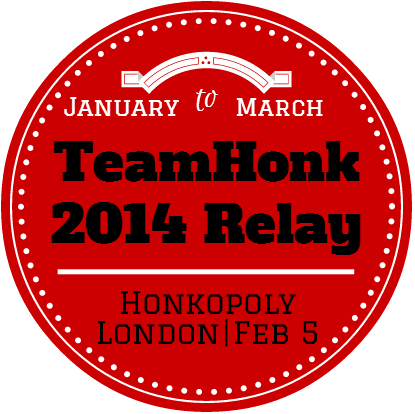 What on earth is Team Honk you say and what on earth is Honkopoly??
Team Honk is an amazing group of bloggers Annie (Mammasaurus), Tanya (Mummy Barrow) and Penny (The Alexander Residence) who last year, with Comic Relief, went to Ghana , and sent home lots of postcards raising awareness of what was happening out there, and what  Comic Relief are doing in  Ghana, working with and supporting people. They then took a team of of bloggers up Snowdonia, and raised nearly £10,000, and met Russell Brand.
This year, for Sports Relief they are doing something pretty spectacular, to raise more money. Much brainstorming and mind melding has taken place, and as a result,  #TeamHonk came up with the idea of traversing the lenght and breadth of the UK, and a large group of bloggers (running, walking, riding bikes, pushing pushchairs, dressed up, dressed down, and everything in between) carrying #TeamHonk baton from Lands End to John O'Groats!!

Honkopoly is  the London leg of Team Honk: a group of
bloggers who are coming together in a relay from Land's End to John
O'Groats in aid of Sport Relief: 3,000 miles, 10 weeks, 250 bloggers.
They are taking the baton on a Monopoly-themed tour of the capital.
Honkopoly will hit every colour of the Monopoly board on foot, on
scooters, on bikes and on London transport.The #TeamHonkRelay is in full swing having started on the 12th January.
How can you help?
Did you know you're never more that 30 miles from a project supported by Comic Relief! Their #GoodWork knows no boundaries providing clean water, food, health support, shelter and basic living needs in the world's poorest countries and at home helping people deal with grief, breaking down the mental heath taboo providing sports equipment for disabled children and so, so much more.
Text HONK to 70005 and donate £5 to Sport Relief
or
Donate via The Team Honk Fundraising Page
Follow us:
@team_honk on Twitter #TeamHonk #TeamHonkRelay and of course #Honkopoly
@sportrelief #SR14
Keep Up…
Join in….
The first ever Sainsbury's Sport Relief Games take place from Friday 21st to Sunday 23rd March 2014. The public can join the fun and games by running, swimming or cycling their way to raising cash at over a thousand venues around the country, including the landmark events at Queen Elizabeth Olympic Park.
As one of the biggest fundraising events, Sport Relief brings the entire nation together to get active raise cash and change lives. The money raised by the public is spent by Comic Relief to help transform the lives of some of the poorest and most disadvantaged people both at home in the UK and across the world.