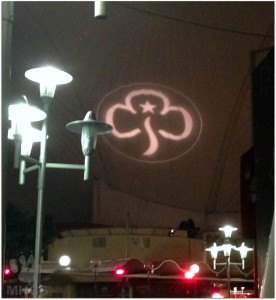 Hi, this is me, Big Girl. I decided I wanted to write about going to Butlins, with the Brownies, so Mummy helped me, by asking me questions, and I wrote the answers. Mummy helped me type it all up.
So where did you go and were there really 3000 Brownies there?
We went to Butlins, near a place called Bognor. There really were 3000 Brownies there. It was very busy, but we had fun. 
Why did you go?
To celebrate the Big Brownie Birthday. Brownies is 100 years old. We were there for 2 nights. 
What did you do when you were there? 
We went swimming, played lots of games, went to a disco, learned circus skills, watched a pantomime, watched a pantomime, went rides at the fairground and we also went to Bognor beach. It was very cold, but I enjoyed exploring. 
What was your favourite part of the weekend?
Swimming in the huge pool, and going down the water slides, and eating bacon and eggs for breakfast. I also liked the circus skills and being with the other Brownies in our rooms. 
Would you like to go away with the Brownies again?
Yes!