This is a brief photo week, not many photos. I had to make a brief trip home, to Scotland to be with my Mum's family, in the middle of the week, and that has kind of thrown us out of routine. We had some very good news this week, and plans that were "waiting to see what happened" can now start to be actioned, which is great, but it has been a very emotional week with a few ups and downs.
So, the few photos I actually took this week: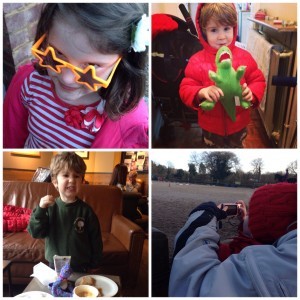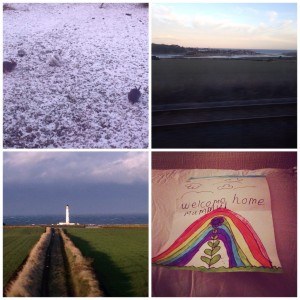 My beautiful children, whom I missed so much, despite being away for less than 48 hours. I don't like being away from them. I was very relieved that I decided to get the earlier train, from Edinburgh on Wednesday, as the one I had been due to get on, was delayed without heating or light, for 5 hours, due to the awful weather we have been having, and would have kept me away longer.
I was meant to start my CBT therapy this week to help with the anxiety issues I have blogged about, but with being away in Scotland, had to postpone it to next week, but yesterday I attended an excellent workshop on dealing with anxiety and depression, from which I took away lots of useful information and helpful suggestions.
Snow bunnies. Taken at my cousins house, her bunnies like going out in the garden, and seemed to quite like the snow. They are definitely a hardier Scottish type of domesticated bunny rabbit.
My welcome home note, from my Big Girl, which made me cry, I was SO happy to be back with my family, even if I am still a little sore and homesick for "home".
Of course a photo week wouldn't be complete without random photos of cats!
If you would like to see what other bloggers are sharing, hop along to Make Do and Push, for her weekly photo link up. It's one of my favourites.
What we've been up to this week:
Monday – Heroes of the City review and giveaway.
Tuesday – Guest post on kids artwork and displaying it round your home
Wednesday – Getting Wordless
Friday – I don't like Valentines Day, a bit of a Rant.
Saturday – Sat Cap linkup
Sunday – Silent Sunday