That's a funny word, and it can mean a lot of things. I am homesick.
I know, that quite a few people will read that, and think "how can you be homesick, you are at home, surely?"
Let me explain. I am 1/2 Scottish. My Mum was Scottish. Whilst for the early part of my childhood, due to my Dad's job, we travelled all over the world, and also spent some time living in England, I eventually went to boarding school in Scotland, first in Montrose, near Aberdeen, then in Perth. My mother's family all live or lived in Scotland, and my uncles, aunts and cousins used to come and visit me at school, or take me for weekends and half terms when I (or we, when my brother joined me at school)  couldn't fly to where my parents were currently living. We stayed with my Nana, my mother's mum, and spent a fair amount of time with my family. My cousins are either pretty much the same age as me, or slightly older or younger. They all have children of their own now, all pretty much the same age as mine, and they all live quite close to each other, and their children are all close and spend a lot of time together.
I have always been slightly different from the rest of my family, I guess, in that I went to boarding school, I travelled a lot as a child, with my parents, then when my mum died, I chose to remain in London, and made my own life, down here, married a South African, left the Catholic church (my Mum's family are all Catholic) and basically went my own way. We all still keep in touch, and when I or we go there, we are welcomed with open arms, and made to feel welcome and  like we belong, despite the fact that I have chosen a different path, and don't spend a lot of time with them and that I "talk funny" according to my rather cute little cousin Lucy, (my cousin's daughter, who is pretty much the female version of Little Man, and I think they would get along so well) because of my English accent.
I love Scotland, a huge part of me feels like it is my "home". It is breathtakingly beautiful, cold, and very different from our life in London. I am very blessed with where I live now, and with my home, our friends, and the life we have built here but there is an ache in my heart this week, after my very brief trip there, to be with my family, for personal reasons, that will fade, but that every so often resurfaces and hurts a little.
I know that "the grass is always greener" and that I have this idyllic vision of whisking my children to Scotland, living close to my family so they can get to know their cousins, and go to a lovely, local school in the Scottish Education system, which my mother always swore was better, and I tend to agree with her. They would be surrounded by beautiful scenery, and it would all be lovely. I know, in reality that what I want, would probably not be "real". I know that we all dream of the ideal life, and what would be perfect, and I know that no place or family is perfect, and that whilst I love my family, very much, and want to get to know them again, and for my children to get to know their cousins, that we would probably drive each other slightly mad, with our differences. I know that LSH would hate living in a small, very much everyone knows what you are doing place, and that he would struggle with dealing with the intimate and strong, sometimes slightly feisty relationship my family have. He has very few cousins, or close family, and doesn't really see much of his aunts, uncles and cousins who mainly live in South Africa, although, we do have some family here, and he doesn't "get" the feeling or "need" that I have, sometimes, to be closer to mine and to be where I spent a lot of my childhood. We are living in London, we are happy, we have a plan, and I know, deep down, that the likelihood of us ever living in Scotland is slim, in fact, where we think we may end up couldn't be further away, or more different in climate and culture, than Scotland, if it tried. So, I will be fine, I will stop feeling emotional, and a wee bit heart-sore, and I will keep in contact with my cousins and their families, we will probably go and visit them this summer, and my children will play with their children, and we will visit the coast, and the countryside that part of me misses so very much, and I won't complain about the cold weather, like I do here, because, it will be "home".
So, yes, I am homesick, partly for what I can't have, and know in reality would not be what life really is about, and partly for the country I miss, and where part of me feels I belonged, or at least fitted in a bit better than I do here sometimes. It will pass. I keep reminding myself "the grass is always greener, til you get there" and carry on with London life. Homesick is a funny word, but it describes where I am at right now.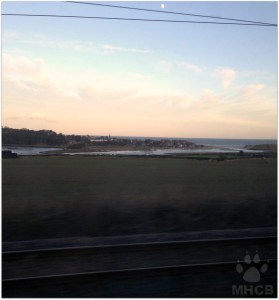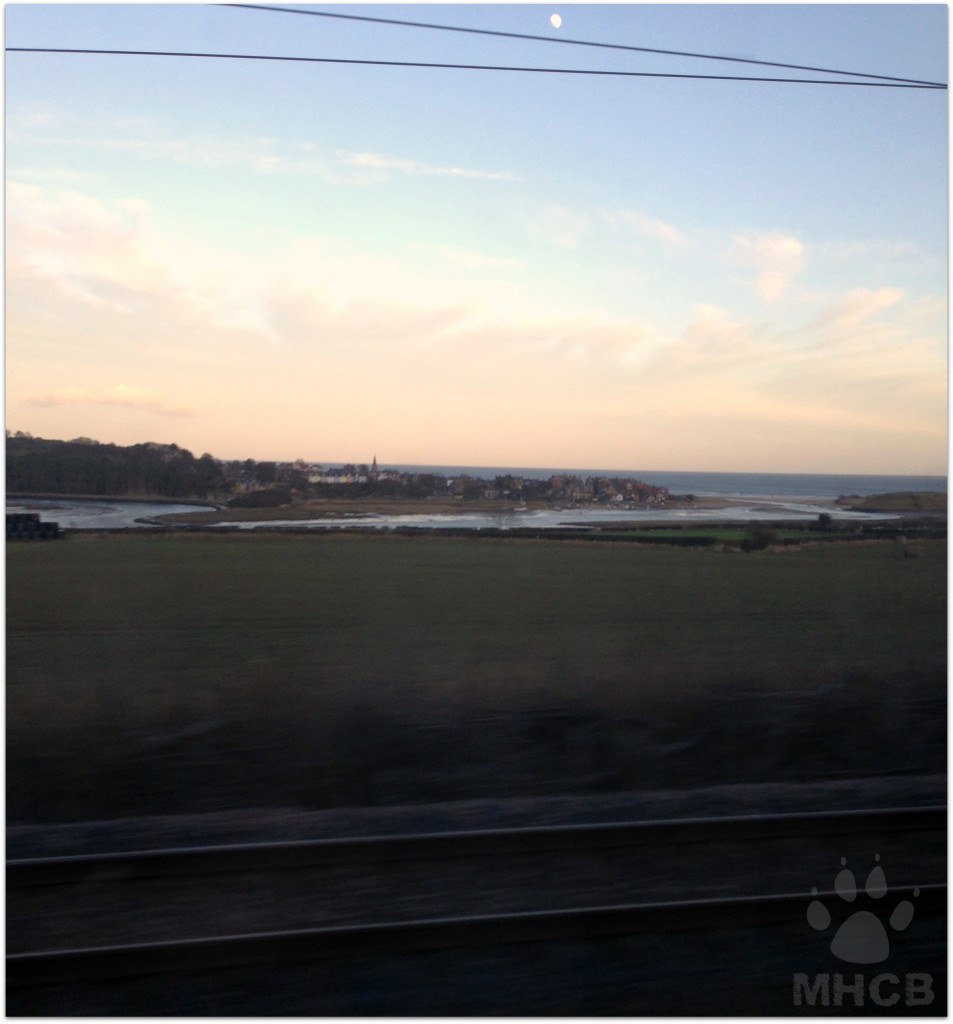 Photo taken just before the Scottish border, from the train, last week.