Last week I didn't do a photo link up, because I had spent part of the week without my iPhone, and hadn't taken any, so I am making up for it this week.
It's been a big week. Big Girl had an operation to remove her tonsils and adenoids, or adenoid-tonsillectomy as it is called. (trying saying that fast a few times!) She wants to write her own blog post, at some point, and has asked me not to share, about it,  until she is ready,  but I can say that she was a rock star, handled it all so calmly, did so well post operatively, and is home, and recovering very nicely. We have had the odd bump, but she is doing well, and I can already see the difference now those "rotten and horrible" (the surgeon's words) tonsils and "huge" adenoids are gone.
So it's been a week of nursing a patient, juggling a bit of work, keeping a 3.5 year old boy occupied (I am so thankful for my lovely child minder and for friends who have helped out, or kept an eye on us and offered to help out, and for all the well wishes and messages, and cards, she and we have appreciated them!) I have spent a lot of time communicating with concerned Grandparents across the world, keeping them up to date, and also uncles and other family. I am very grateful for my little phone, I can update everyone with various methods of communication, so quickly. 🙂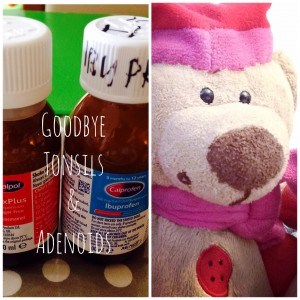 Lots of pain meds needed, in the post op recovery phase. Selfie of Buttons the Beloved Bear. I cuddled him whilst we waited, when she was in theatre, and was very glad to hand him over to her, when we went to get her from recovery. It's very hard, leaving your child in the hands of others, like that, even when it's something you know needs to be done, and you know they are excellent doctors and nurses and will take care of her. We are glad it's all over and done with now, and I am again reminded that parents who have to face medical procedures and frequent hospital stays with their children are amazing, and my heart goes out to them, in a way I never understood when I didn't have my own children.
Other than that, we have had food, more food, rants about graffiti, the usual random cat photos, lost hairbrushes (I had to buy myself one, and hide it so it can't disappear like socks seem to) and lots of ice lollies in this week of recovery.
So that's our week. Why not pop over to Make Do And Push and see what other bloggers are sharing too?
What we have been up to this week:
Monday – Giving up my iPhone was a fail
Tuesday – Reward charts for children, yes or no?
Wednesday – Creative Kids – First violin concert & Get Fit Mummy Weekly linkup 
Thursday – Anxiety is a strange thing
Friday – I had a rant about graffiti
Saturday – Alternative uses for Ice Lollies – Sat Cap
Sunday – A gin filled Silent Sunday