So this week is a bit of an eclectic mix. We celebrated Small Boy's 4th birthday with a trip to see dinosaurs at the Natural History Museum (I have to say, I don't think much of the enormous queue, to get in, then the very crowded and hot, and pretty small display, considering the size of the actual museum, but it made Small Boy happy, and that was the whole point) and we ate cupcakes and played with Lightening McQueen remote control cars. He is also getting a bike, but that arrives on Wednesday, he doesn't know it yet.
So here is our week, in photos from Instagram.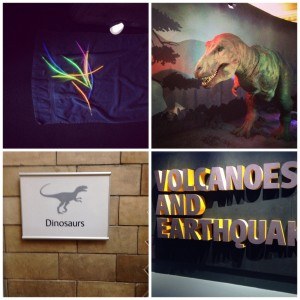 Pink sewing machines, (I really want one, partly for the pink, of course)  policeman hats on fire extinguishers (don't ask, it's a toddler group thing, don't tell the health and safety lot either!) therapy this week, and a quote that I am going to need to remind myself of a lot, as I work towards dealing with boundaries and protecting myself and helping myself to deal with my anxiety a bit more, oh and random photos of a cat, just because.
Small Boy's with cupcakes, remote control car delight and that's my Dad with my nephew and Small Boy at about a week old, my nephew is two days older than Small Boy, they get on really well, and are so funny together.  Then you have glow-sticks, on a towel (again, don't ask, it's mayhem round here, glow-sticks drying on towels all over the house)  dinosaurs, and my children conceded to my fascination with all things geological (I just realised that the spell check changed that to gynaecological, that would have looked very odd indeed and made me seem like a total weirdo, thank goodness for husbands proof reading posts when I am tired, and can't make sense when I type) and we visited the new Earth exhibit as well, much more up my street.
So, that's our week. Make Do and Push has her linky up on her blog, if you want to see what other  bloggers are sharing. Otherwise, have a lovely week. The blog is back to normal tomorrow, after my hiatus to regroup and rethink a few things.