It's been a bit of a mad week, with lots of busy days, and busy nights. I have managed to be out 5 nights this week, my children are starting to question me… "will you be home tonight, Mummy?" I am not usually so busy in the evenings, and it has been nice, this week, but I am TIRED now and too old for all these late nights or going out after the kids are in bed, so I am retreating with my slippers and knitting now!
We have had surprise birthday parties for great aunts, which meant trips to London, with cake (cake, on a train full of rugby fans, with two small children, was stressful, shall I say?) and gardening, I started back at my adult ballet class this week, taking things gently on the knee, which is being MRI'ed next week, to see what is going on and if I will need surgery (Eeek!) to deal with the pain or if it's just more physiotherapy and rest (ha, that's a joke!)
So here are some photos from our week, from Instagram.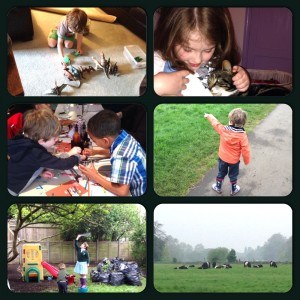 I may have had a rant about UKIP, Little Man may have got excited because the cows are back in the Petersham Meadows, near us, he loves the cows, we visit them regularly, there may have been negotiations over olives, between cousins, and I am not sure what the children were doing in the garden….
I also may have gotten a bit excited by rainbow cake, free rainbow cake, no less, spent time Dr.Googling MRI's to find out about what to expect, and discovered that you can make "pasta" out of raw veggies….
S0, that's our week.