So last week, I was unfortunately struck down by a stomach bug, and even though I was feeling more human by Sunday, did not have the energy to try and edit and blog so this week, you get a BOGOF or a two for the price of one deal, with our weekly photo update from Instagram and Facebook , this week.
We have had a busy two weeks, in between my being unwell, thankfully, the children and LSH managed to escape it, but it still wasn't much fun!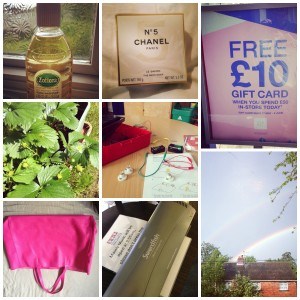 We have fragrant smelling disinfectant (handy, after a tummy bug, ahem!) even more fragrant finds in sock drawers (forgotten Christmas presents) pink handbags, laminating love (I love laminating, I am sad, I know) teaching physics to 7 year olds (and no, I didn't burn the school down) rainbows, strawberry potential,  and am I the only one who thinks gift-cards when you spend money are a bit silly? I'd rather have money off when I shop first time round.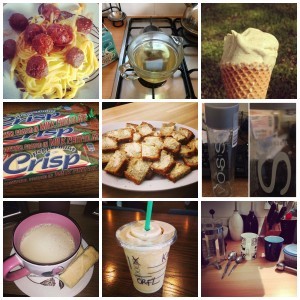 In between tummy bug and recovery, there was as usual, lots of food. Meat balls, minty tea (handy for tender tummy bug stomachs) pistachio ice cream and frappucinos (yay, summer is here) South African snacks and confectionery (rusks and Peppermint Crisps) serious coffee making, pretentious water and banana bread fresh from the oven – this is why I will never be thin!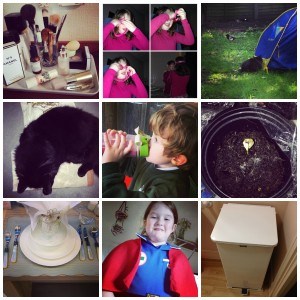 A rather random selection of cats in tents, cats on laundry, make up (which I have given up for a month) sunflower seedlings, industrial nappy bins, culterly I am coveting, my personal nurse, while I was sick, and goggle crisis galore….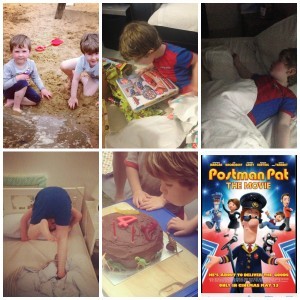 And FINALLY, we had a lovely time celebrating Little Man's birthday, with cake, and I thought I would share some photos of him, in action, gymnastics, bedtime procrastination, birthday candle blowing, and with his cousin, and asleep at last, and we are very excited to be going to see Postman Pat, the Movie next week, I just thought I would throw that in, because I am just as excited as the children.
So, that's our week, phew.