Weclome to our weekly photo update. Shots from Instagram, sharing a little bit of life, and mostly madness, in the Mad House….
This week has been busy. LSH celebrated his 40th birthday party, this week, with cake. We have a party planned for next weekend. On my to-do list is to clean the rather neglected looking BBQ and pray the weather co-operates.
I made a gluten free, cows milk free Victoria sponge, for the actual birthday day. It turned out rather nicely and the recipe will be on the blog, later this week. As you can see, certain small boy's liked it, and so did the big boy!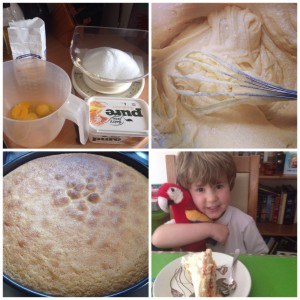 We also had dinosaur birthday cars (Little Man insited that we buy that one for Daddy, yes I know it says "4") I have been, ahem, somewhat distracted watching all the episodes of The West Wing, on Love Film, whilst mending racing cars as a side job, the usual food photos (I have come to the conclusion I will never be thin, I love food too much) and yes, finally, I am getting an iPad this week, and perhaps we are totally bonkers, but we are adopting some giant African Land snails, to add to the cavalcade of chaos… Cats, snails, it's all good fun! (the obligatory cat photo, of course!)
Sharing our week with other bloggers over at Make Do and Push. Why not come and browse?