I have a secret confession. I often feel a bit "meh" about Disney and other branded  movies, with their "true love" or "princess kisses a frog" type theme, but there are some that are really good and last the test of time, becoming family favourites. I enjoy them, when they have a really good villain in the story. Who doesn't think that Cruella De Vil, as evil as she was, was very clever, scary and just plain wicked, but much more interesting than the "good" protagonist? Or Skelator in HeMan? (yes, I am showing my age, I know) Or the not nice, but very funny step sisters in Cinderella or even the cat Lucifer (Layla would like him, grumpy, mean, and spoiled!)  or some of the many characters that Bat Man/Spider Man or Superman had to fight (Lex Luther, immoral, but fascinating) or some of the more recent characters from popular movies my own children have watched like The Lion King (although it is now 20 years old, hardly recent, but still popular) Scar, evil, twisted, but still interesting – I can't watch anything with Jeremy Irons in it now, without thinking about Scar. The wicked Ursula in Little Mermaid, or the character that plays Sir Hiss, the snake in the cartoon version of Robin Hood, with his chronic sinus problem or Jafar and his ridiculous parrot in Aladdin?
There are so many, I can't actually list them all.
But, I do have a firm, personal favourite…. She's mean, she's cruel, she is ruthless. She's Captain Du Bois, from the 3rd Madagascar Movie…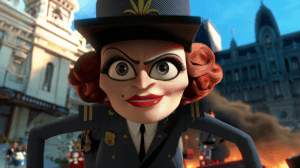 I don't know what it is that appeals to me, exactly. Maybe it's because she is very clever, and determined, and basically doesn't care what she has to do, to get the job done, and isn't bothered by what other people think.  Or perhaps it's she does it in style, with red lipstick, or maybe because she sings Edith Piaff's song "Je Ne Regrette Rien", with such feeling,  but she is my firm favourite. Of course, I do not condone her hunting down, trapping and killing animals, that's horrible, but she is after all a cartoon villain, she has to have a bad side. She does get her comeuppance in the end, of the movie, I wonder what happened to her when she arrived in Madagascar….
Here she is, in all her glory
So that's my confession, but now I need to hear yours. Tell me who your favourite movie villain is? Comment below. Tell me who, why and what makes them so appealing to you. There's a chance to enter to win a prize of £20 Amazon e-vouchers. The link is open for 4 weeks, I am sure everyone secretly has a favourite movie character or tv villain.
Enter to win Here:a Rafflecopter giveaway
*Terms & Conditions: 
The Amazon vouchers will be US dollar or UK pounds for use on Amazon.co.uk or Amazon.com
To enter, link up your blog post on your favourite villain, from movies or tv. 
One comment entry per person, but you can like our Facebook page, or tweet about the blog post to get more chances to win. 
The winner will be chosen randomly and emailed as confirmation within 7 working days.
The winner will be chosen randomly and emailed as confirmation within 7 working days.
The winner will be mailed directly and the voucher will be e-mailed within 14 days of the link ending
The competition starts on May 29th 2014 and ends on June 26th 2014