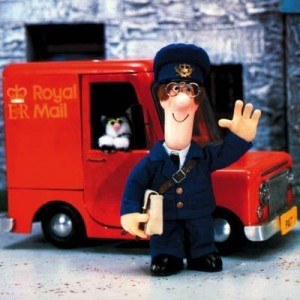 We were asked if we would like to go and see the new Postman Pat movie, at half term. Little Man and I were ridiculously excited, him because he loves Postman Pat,  and me, because I watched Postman Pat as a child, and my own brother loved it too. So we danced around our living room when the e-mail came in offering us tickets and off we went last week to see it. Big girl was happy to go the movies, but was a bit sceptical, as she thought she might be to big to watch it, but soon changed her mind.
As an adult, watching the movie, it's funny, because there is a lot of it "aimed" at the parental audience, with slightly more grown up humour, although of course, it's a children's movie, so it's all clean fun.
Big Girl says:
"I laughed and laughed during the movie, I thought it might me too babyish for me, but it was very funny, and I think Jess was the funniest. I loved the singing and that Postman Pat wanted to look after his family so much"
Little Man says:
"I liked Postman Pat, I ate lots of popcorn and was scared of the "bad robot pretending to be Jess" and it made me sad, but Postman Pat and Jess beat him and won, so I stopped being sad. I liked the movie, it made me laugh"
Mummy says:
I enjoyed the Postman Pat movie. Having enjoyed it as a child, and watched it over the years, with many of the children I nannied or cared for, to watch a movie, finally made for him, with my own children, was fun, if not a tad nostalgic. I would say that Little Man was a bit scared by some bits of the movies, so it may be something parents of younger or more sensitive children may need to just watch out for (the evil, robotic Jess the cat, was a bit nasty looking) but other than that, it was a fun family movie and we thoroughly enjoyed it and are looking forward to getting the dvd when it comes out.
The only remaining question, most pressing, particularly for Little Man, was "is Jess a boy or a girl cat?" I am not sure I know. Anyone got an answer for me?
*This was a review post. We were sent tickets for the children, and one adult to see the film, at our local cinema. All opinions are our own*