What have we been up to? Our week in photos from Instagram and Facebook, tell the tale. We, as usual, have consumed a lot of cake and some new family members in the form of snails, have arrived.
"Cake?, you say? "That is why you will never be thin!" (I know!) "Snails?", you say? "Have you lost your  marbles?  Isn't there enough chaos in the Mad House, without adding more inhabitants?" Yes, probably, but I am a bit weird, I like unusual pets like snakes, snails and stick insects, so when we were offered these babies, African Giant Land snails, to be exact, I couldn't say no. I am sure we will be blogging about their progress as they grow. They are pretty tiny and shy right now. They have been named Albert and Delilah by the children, and no we can't tell which is which, and as snails are hermaphrodites, so it could be interchangeable, although I think I can see different markings on each of their shells, so hopefully we will be able to tell them apart.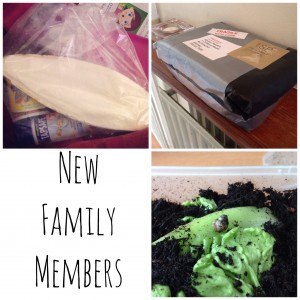 I unfortunately, had a bad reaction to some rather nasty mosquito bites, this week, after trying out some of the things you can buy over the counter, a trip to the doctors was required. As you can see, they were very itchy and swollen. Apparently I am allergic to British mozzies, and I can't say I like them very much!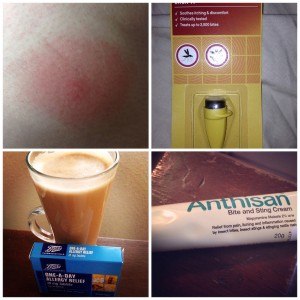 We are getting ready, very excitedly, for our first international holiday, at the end of the term, more on that, nearer the time, but you can see we are taking the preparations very seriously. Of course, there has to be cake, home made, gluten free, dairy free Victoria Sponge cake, to be precise. It is pretty good, if I say so myself. I needed cake, after an afternoon of glitter, sequins and glue, in a class of 7-8 year olds, and a rather hard week, with a little boy going through the "Fours".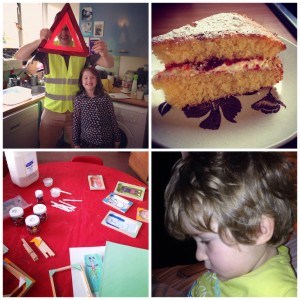 And of course, you have the usual array of food, from the healthy, to the not so healthy, to the downright yucky looking but actually tasted pretty good (black bean dip) and more cakes, patriotic ones, for D Day, of course!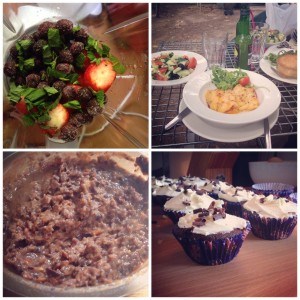 We also had Little Man's one year check up with the ENT, who pronounced that he has EXCELLENT hearing, the grommets are still in, working well, and he wisely told me that "having good hearing, doesn't always mean they are going to be good at listening" when I mentioned that we were having a bit of a challenign time getting a certain person to cooperate and listen at times, at the moment. We also have a problem with stickers, as you can see, the cats are suffering from a glut of stickers, that I am finding everywhere, not just on the furry members of the household. Also a rare photo of Big Girl, looking terribly grown up.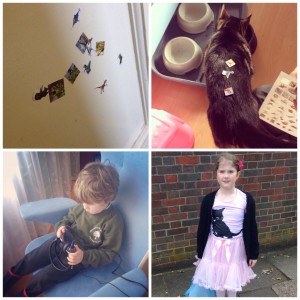 So that's us. Linking up with the lovely Make Do and Push, for her weekly linky. Onto another week we go….
You can also read my thoughts on being the Playground Pariah, our Postman Pat review, and why we are Embracing Technology, blog posts from this week.