Welcome to our week in photos, from Instagram and Facebook. What we have been up to, usually it involves cake, coffee, and a little bit of madness.

This week, the usual chaos rules but we have lots of fun and tasty things to review and clearly it is not going to be a low calorie week, although that iced coffee was low fat, low sugar and decaffeinated. The Gu pudding however, was not. I tried and decided I don't like chocolate covered Edamame beans. Vegetables are not meant to be coated in chocolate!

Grandad is back in the UK for his summer sojourn. We had a really fun afternoon at Kew Gardens with him, and may have been a bit rowdy on the bus home.

That is sand on my clean floor. Small boy brings home, what seems to me, like half the nursery sandpit, every day, and dumps it all over when he take his shoes off. It's driving me batty. We managed to persuade him, at least out of his winter wellies (yes, I know, it's June, but he's 4, he will wear what HE wants, I don't fight it, unless it's beyond impractical) and got new sandals. They use a new system, to measure feet. I am not convinced it is that accurate, as the first pair of sandals we bought, he refused to wear, which I thought was due to being stubborn and not wanting to wear them, but it turns out they were one size too small and too tight. I asked them to double check, with the old fashioned manual foot measuring contraption, to be sure, the second time we went.

The snails are settling into the Mad House, and we are learning about them, as they grow. Explaining to my seven year old, what a hermaphrodite was, on the way to school, was educational for us both, she is getting to that stage where she wants to know how things work, and how babies are made. I am a firm believer in being honest, factual, not using silly words, but correct terms, and giving children the information they need, in a way that is simple but not scary. She was fascinated by the way snails can reproduce without the need for a partner of the opposite sex. It made for a very interesting discussion.

We find out this coming week, what the verdict is on my knee, I am a bit nervous. I may also may have got very messy with plaster of Paris, at Brownies, and discovered that if you sit on a Spiderman toy, carefully hidden by certain small boys, that it hurts!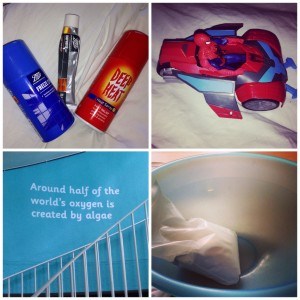 What we have been blogging about this week…
Meet our Giant African Land Snails, in Creative Kids
I shared about PMS and talked about hormones…
Sharing over at Make Do & Push