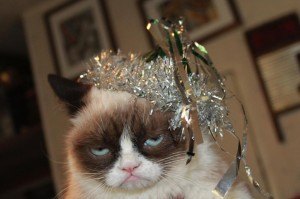 (Image source – Grumpy Cat)
I am too old for late nights and more than half a glass of wine, I've decided.
Ok, so this post is slightly tongue in cheek and probably a bit whiny but I am sure someone, somewhere, can relate.
We have had a busy weekend. It has been great fun, but I AM EXHAUSTED.
On Thursday night, I stayed up late, writing blog posts, and then chatting to a friend in Australia on Skype, I didn't get to bed until nearly 12:45am. On Friday night, some friends and I went out to London, had a fun evening, consisting of cocktails in Covent Garden (I tend not to drink a great deal, so had one, then stuck to cola, with one beer with my meal, later) then dinner in a rather nice little Malaysian restaurant in China town. I got home at 12:3o0am, was in bed by 1am. Little Man was up with the birds at his usual 530am. I was a tad weary on Saturday morning, but managed to pull through. We then had lovely friends over for dinner on the Saturday night, and it was a great evening, with lots of chatting, but again, it was a late night, and by the time we had cleared up once they had gone, it was gone 1am when I collapsed into bed. I had two glasses of wine, hardly wild party material. Again, we were up early, the next day, with a certain small boy, no lie in's here, for party animal parents…
We went out for lunch yesterday with my Dad, brother and their partners and the kids, and it was lovely, but by the time we had finished, and walked to the local park to let the children run off some steam, I could have happly found a tree, curled up, and had a nap, for an hour. When we got home, I helped to get the chidlren ready for bed, and pretty much followed suit and was in bed by 8pm.
My poor body, at almost 38 (gulp, in 2 weeks, as Big Girl keeps cheerfully reminding me, she is FAR more enthusiastic about my birthday and age, than me) has decided that late nights and anything more than half a glass of wine is just too much, and that I need to behave, stop the late nights (sorry Kate, we will have to do our Skype calls at a more sensible time, clearly!) and stop trying to pretend that I am a twenty something again, and that I don't have the stamina for nights on the town, and staying up into the wee small hours then getting up with children, the next day.
So, if you want to find me, after 8pm, at night, you will have to look for me, in my bed, tucked up with a book, and my hot milk, ready for sleep, because frankly, with a little boy who likes to get up early, and a busy life,  I clearly am too old to have a social life and need to stop the gallavanting! 😉
Let's not even mention how tired I actually look, much less feel, and that I had to dig out and apply make up, after 6 weeks of going make up free, finally, yesterday, so I didn't scare my family at lunchtime!
Ok, so I am really joking, and I know I am not too old, but perhaps 3 late nights on the trot with children to get up to the next day probably was pushing it a bit. I do want to know how those of you, with kids the same age as mine I see looking perky and radiant, despite a late night or two manage it? I clearly need let in on the secret? Spill?