Back to taking this seriously, made a good start this week.
I have not done a Get Fit Mummy post for the longest time. I had kind of reached a plateau, was bored of trying to plan and eat healthy "diet" food, and to be honest, I love my food too much, and I struggle with the idea of salads, and cutting back. It's a mentality that I need to get back into.
But, we are off on holiday in 5 weeks time, so I am trying to get motivated. I would like to loose a little bit of weight, so I can treat myself to some new summer clothes, then carry on, and reach a good goal weight.
I am kick starting things by doing the 5:2 diet.  I actually find not eating, much easier than having to plan meals and as I find eating breakfast at a normal time challenging and fitting meals in around work and being busy with the kids, the 5:2 diet works. The days I fast, I drink black coffee, herbal tea, with a bowl of miso soup, then a simple meal of protein and veg in the evening. This takes me to about 500 calories, and of course I am drinking lots of water, as well. I can manage this, quite easily and so far, I have done two days this week, and not wanted to hurt anyone because I am hungry and have resisted the urge to snack or graze on sweet things. On my non fast days, I plan to eat normally but reduce my sugar and processed carb consumption. I am hoping to see a reasonable weight loss, if I do this for a month. LSH is joining me, as he also wants to loose a little weight, pre our summer holidays. Dinner tonight is grilled chicken with some herb mix, to give it a bit of flavour and steamed broccoli.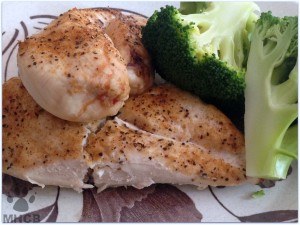 I am not going to share my weight goal, for this week, I am going to start that next week. I also get the results of the MRI I had done, on my knee, tomorrow, which will hopefully tell us what is happening, and if I need surgery, to repair damage, or if I can carry on with just physiotherapy, and treating the pain, and start exercising again.
So that's it, back on the band wagon, taking this seriously now.  Get Fit Mummy!
Feel free to add your blog post, to the linky, to share how you are doing with your weight loss goals, and we can all support each other. I would just ask that you don't post diet scams, or promote unsafe weight loss medications.